New CHS Lineman Thrives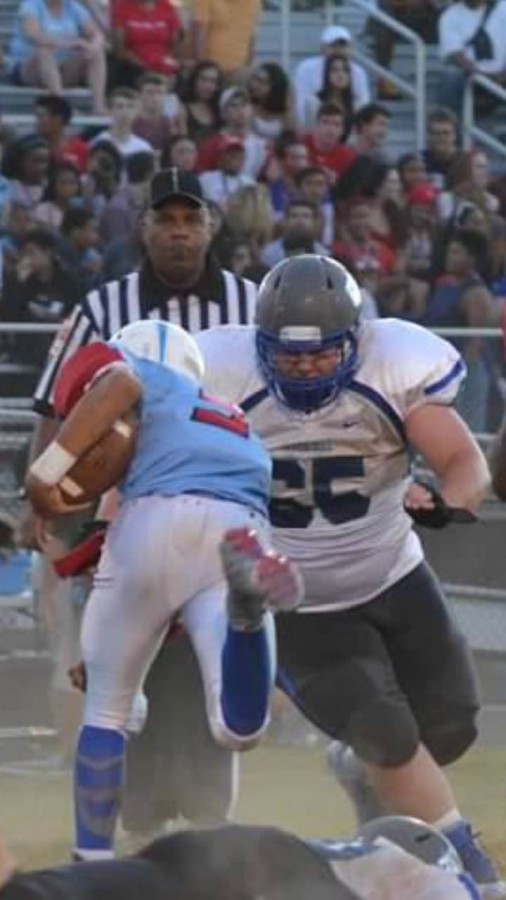 By Peter Durand, Social Media Editor
September 30, 2015
Senior Phil Spencer is barreling through everyone's expectations, literally.
After turning down a scholarship from Blair Academy boarding school in New Jersey to attend CHS, Spencer stands out as one of football's strongest defensive players.
"He is one of the strongest players I've ever seen, but is still extremely mobile for his size," said senior back-up tight end Weiling Tan.
Spencer credits his teammates for being extremely helpful in his transfer to CHS from Saint John's College High School in Washington DC. However, he also recognizes the staff as some of the best faculty he has ever seen.
"The teachers are amazing and so are the counselors," Spencer said. "They have been accepting and caring. It's been an overall great experience."
As one of the strongest players on the team, he has already assumed a commanding role on defense as the defensive nose tackle.
According to Spencer, his single biggest contribution to the team is his "tough, rough, always-want-to-hit mindset."
Spencer views head football coach Albert Song as one of the hardest coaches he has ever worked with, and thinks Song has been a huge role in his development both as an athlete and as a student.
"He focuses us on trying to be better men on and off the field rather than just better football players," Spencer said.
Despite being a defensive lineman, Spencer says that his true passion is in wrestling.
According to Saint John's athletic records, Spencer was a DC City Champion for his weight category in 2014, qualifying him for the National Preps Tournament. In 2015, he placed second in his weight category at the same tournament.
Spencer has also wrestled at the state level for Team Maryland and the Maryland Monster Squad.
"I started wrestling with my brother when I was little," Spencer said. "I like literally everything and anything about wrestling."
Spencer has come a long way since then, even getting featured in December 2014's D.C. Wrestler Spotlight for the Wrestling Coalition of DC. He now has his sights set on his future wrestling career.
"I have interest from West Virginia, Grand Canyon University and Utah Valley, all Division I schools," Spencer said.
But for now, Spencer is focused on the CHS wrestling and football programs, and he has enjoyed his senior year so far as a Bulldog.
"I'm happy to be here," Spencer said.