Hockey wins State Championship with record-breaking dominance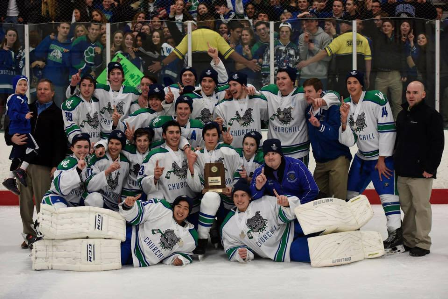 The CHS Varsity One hockey team defeated Marriotts Ridge 10-0 in the 2015 Maryland Student Hockey League (MSHL) 2A championship at The Gardens Ice House in Laurel Feb. 27.
This is CHS' second state championship victory in three years.
"We had a great group this year," head coach Ray McKenzie said of the team.
CHS also set a record for most goals (10) scored in a state championship.
Senior captain Justin Vagonis believes that the bonds between players contributed most to CHS' victory, in addition to depth and stamina.
"Whether it was getting up at 4:30 a.m. for practices or having team dinners together, we were like brothers," Vagonis said.  "This enabled us to play in sync with each other and just have fun doing it."
Vagonis will miss the team's traditions most next year.
"We would give out our back-up jerseys to girls on game day, dress up on game day, and have team lunches and dinners all the time," Vagonis said.  "Spending time with the team was always fun."
Senior captain Ross Allen was honored with MSHL's Yvon Labre award.  Allen had three goals and two assists Friday.
According to Allen, the award is given to those individuals with significant achievements in hockey, academics, and community service.
"It means a lot to me to be recognized for this award," Allen said.  "It shows that all of the hours of hard work that I have put into everything I do have paid off for me."
Many CHS students came out to support the Bulldogs in their state championship victory.
According to senior Tiffany Russo, every seat was filled and everyone there was very spirited.
"It was a Churchill vs. Wootton game times 10," Russo said.
Despite losing eight graduating seniors at the end of this year, fellow teammates do not consider next year to be a rebuilding year for the team.
"We will still have plenty of upperclassmen on the team and plenty of talent to win us games," junior hockey player Mark Weinstein said.  "I would say we are reloading more than rebuilding."