Team spirit fills CHS hallways on game days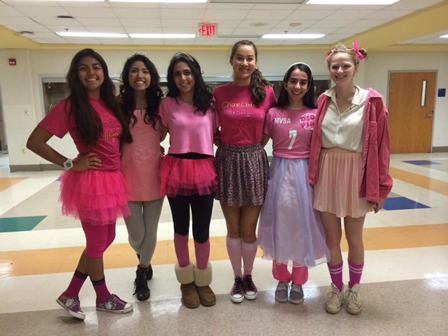 It's game day. A sea of collared shirts and ties flows through the halls. A gala of girls toting togas strolls by. A group clad in all neon colors lights up the halls. Many CHS sports teams dress up and give out food to teammates on game days. Here's a look at the reasoning behind all of the traditional baking and dressing up.
Volleyball
The volleyball team went 13-1 in the regular season and its players like to dress up on game day in order to raise awareness of their great record and squad. They had many different themes of clothing such as toga day, neon rave day, camo day, private school day and pink fairy day.
"It brings us more energy because if we don't have energy and spirit on game day then we will be dragging through the game," junior defensive specialist Tiffany Cao said. "Also, for Dig Pink, we dress as fairies, and it reminds us that we are playing for breast cancer awareness. It brings more people to our games to raise money. It helps the spirit a lot and helps us keep our energy up for games that turn out really long."
Boys Soccer
The soccer team dresses big for the games that mean the most. Against Whitman, Wootton and WJ, they dress in shirts and ties. On other games they wear a practice jersey or polos to school. The team also receives baked treats from their Poms team secret buddy. The team also takes a trip to Ocean City, MD together before the season in order to improve team bonding.
"It's more of a unification thing showing we are all on one team," senior goalkeeper Kyle Solomon said. "A big part of soccer is team work and you have to have team chemistry. Also, it's partially to get pumped up for the game. When you wear a shirt and tie, you look good and feel good."
Girls Tennis
The tennis team dresses in a variety of themes on game day including risky business, pink out, neon day, black out and white out. Dressing up for matches help the members of the tennis team get mentally prepared and pumped up for the game later in the day.
"It is nice to bake for another girl on the team because it helps them with the nervousness that comes with a tennis match," junior Namrita Perincherry said. "It brings us together and makes us one strong unit. It makes us more unified and more of a team. Tennis is a very individual sport, so it helps bring us all together."
Poms
The squad prepares for the spirited day ahead of them by meeting at Starbucks before school and trading the baked good they made for each other. Poms usually wear their uniform to school with a Poms t-shirt and blue or green beaded necklaces or ribbons.
"Dressing up and giving out food benefits the team in that it encourages us to do better and promotes the team unity that helps us do the best we can," junior Captain Danielle Marks said. "These activities promote team bonding because whenever we do it the team gets to be together outside of practice which is where the real bonding happens."
Cheerleading
The cheer squad goes all out all out the week before their cheer competition on Nov. 14. They dress in a variety of themes including dress shirts, cowgirls, and camo.
"Secret buddies is something that is really exciting because every week a new, unique treat is baked for our buddy," senior Evangeline Pergantis said. " It's something fun to do before a game because it gets everyone peppy and excited. It is important to carry out the tradition of the cheerleaders before us."
Cross Country
All the runners running in states shave their hair into Mohawks.
"It's a long tradition for cross country to get Mohawks before States," junior Jason Shefferman said. "Will Conway and other greats did it, and so are we."