Faceoff: Nats look dominant heading into the playoffs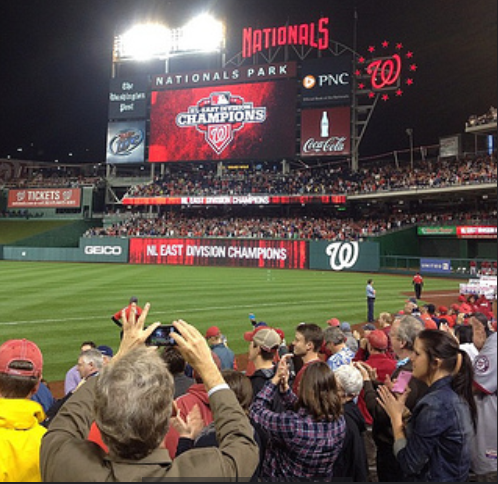 Last April, I predicted the Washington Nationals would be in the World Series this year, and the Nationals look geared and ready to make my prediction come true, regardless of the Orioles or any other team.
On Sept. 16, The Washington Nationals became the first team of the year to clinch a playoff berth. The Baltimore Orioles were next, clinching on the same night, around a half hour later. Now both teams are solid contenders for a World Series appearance, but I believe the Nats are the best team in baseball and can beat the O's and any other team in the way.
According to a Sept. 18 article on MLB.com, the Nats have the "best pitching staff" with the lowest ERA in the league. In the playoffs, pitching wins games.
The Nationals have an unprecedentedly good pitching rotation. Jordan Zimmerman, the Nationals' third pitcher, threw an extremely prestigious no-hitter in the last game of the season; the "no-no" is a testament to the team's talent, and gives them a huge momentum boost going forward.
According to Adam Kilgore of the Washington Post, the Nationals starting playoff pitchers are "absurd," and in their four combined last starts they have an unprecedented "31 innings pitched, 0 earned runs, 38 strikeouts, 4 walks, and 6 hits."
The numbers of the pitching staff speak for themselves, but defense is only half the game. However, there is no need to worry because the Nationals are prepared to back up the stellar pitching with their stacked batting lineup.
According to MLB.com statistics, the Nationals have quite a few league leaders: four of the top twenty in RBI leaders (Runs Batted In), 3 of the top twenty run leaders, and two of the top ten hit leaders.
Baseball games are won by scoring more runs than the other team. The Nationals pitching staff has been the best at limiting runs, and the offense has league leaders in nearly every run-scoring category.
The numbers should be enough to prove just how dominant the Nationals have been, and will be this postseason. However, if there is any doubt left about the Nats, it can be relieved by checking nearly any postseason power-ranking list.
According to BleacherReport.com, SportsOnEarth.com, Barry Larkin (ESPN), and Tim Kurkijan (ESPN) The Nationals are favorites to win the whole thing.
The Nationals are ready and waiting to beat any team and bring home a title after a 90-year drought. So watch out Orioles, A's, Angels, Cardinals, Dodgers Giants, or Pirates because Washington is coming.