#DirtyThirty dominates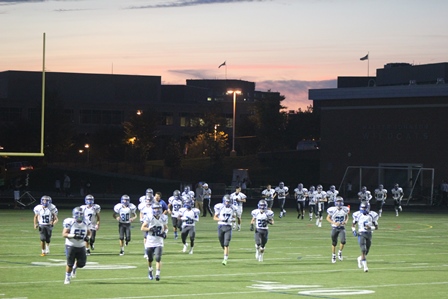 They are a tiny army with great strength. They fight as one, regardless of size. Side by side, each player has the others' backs. They are determined to win, they are ready to fight. They are, the dirty 30.
Although the football team graduated 15 seniors last year, the Bulldogs have high hopes for the season to come.
According to varsity head coach Joe Allen, only 80 students tried out for the team this year, a large drop compared to last year's team that consisted of around 50 players. The varsity team is now composed of 29 players.
According to junior quarterback Colin Smyth, the team is now closer and better prepared for the season since there are fewer players on the team.
"With fewer kids, we can get more people to get reps in at practice, so everyone is able to learn their position," Smyth said. "My teammates and I are all very close and ready to go into battle with each other."
Though critics may think that it will be almost impossible for the team to succeed this year with only around 30 players suiting up for each game, the Bulldogs have proven them wrong with a 39-0 blowout in the home opener against B-CC Sept. 5, and a 41-0 win against WJ Sept.12.
According to senior defensive end Giulian Groce, the team is better in "every way possible" compared to last year.
The Bulldogs offense has improved greatly from last year. Senior runningback Blake Dove and junior runningback Andrew Zuckerman combined for four touchdowns in the Bulldogs' win over WJ.
According to Zuckerman, the team has been preparing and training harder this year due to its reduced size. The players are working to become better conditioned throughout the season for each game.
With fewer players on the team, this seems to be a necessity in order for the team to compete with other schools.
According to Smyth, the team has been running more often and is getting more conditioning in during practices. He also said the Bulldogs will need to stay healthy because people will be playing on both offense and defense during the game.
"This year, we will challenge for the 4A South Title," Allen said.