Autism Speaks races to reach fundraising goals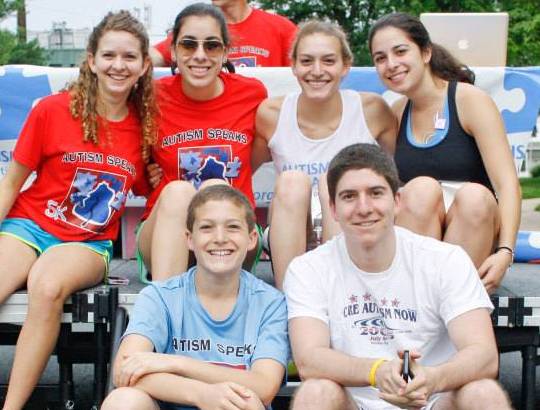 When a relative was diagnosed with Autism 14 years ago, the Pereles family decided to start a 5K race to raise money and support Autism Awareness.
In that first year, before the Autism Speaks Foundation had even been created, the race was composed of over 600 participants, including walkers and runners. It has since become an annual event held on July 4 in Potomac Village. Last year's race gathered more than 1,500 runners and 600 walkers.
"My mission has always been to make it a family friendly event and to raise as much money with this event as possible," founder and director Susan Pereles said. "I wanted to do something to support our family while also raising money for Autism research."
The support for the cause has grown as the number of people who are impacted by the disease continues to increase. When the race began in 2001, only one in every 500 children were affected by Autism, but by 2013, the numbers had risen to one in every 62 children and one in every 42 boys.
"At this point, the event is a community tradition," said Grace Pereles, CHS junior and Autism Speaks intern. "People come from all over the Metro D.C. area to participate."
Consequently, the Autism Speaks Foundation has made great strides in bringing this disease to the public's attention. It has donated over $160 million to the cause, and has been a major factor in the push for recognition that lead President Obama to enact a stimulus grant for over $1 billion towards medical and scientific study of Autism. The "Light it up Blue" campaign has taken hold nationwide and in 35 other countries across the globe.
"The goal of Autism Speaks is to improve the lives of all of those living with Autism," Grace Pereles said. "We raise money for research for better treatments and a cure, advocacy, awareness and family services."
It is this mission that inspires people across the country and people from the Potomac community, to participate in the event every year.
Participants can join one of the over 100 teams that compete in the annual race, including the Churchill Running, Potomac Swim and Dive and Eldwick Sharks teams. The teams fundraise together, and can win prizes for most spirit and most money raised. All profits go towards reaching this year's fundraising goal of $300,000.
"The race is really fun and the spectators have a ton of spirit," sophomore participant Meredith Srour said. "Throughout the course there are always people standing on the sides cheering for you, and there are a lot of festivities both before and after the race."
Besides running the 5K, people can volunteer at the race or participate in the virtual 5K if they will not be in town that weekend. Runners can register for the virtual 5K and receive a shirt so that they can run, spread awareness and fundraise wherever they may be.
Registration is open now until July 2 at events.autismspeaks.org/AutismSpeaks5K.