Track and field struggles with inclement weather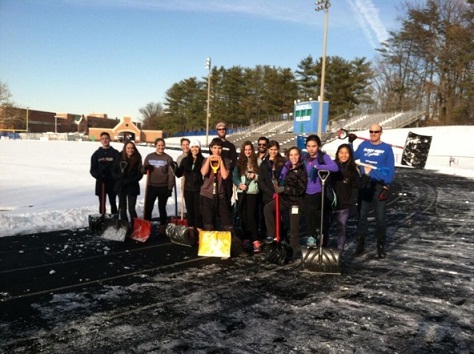 After a winter full of snowy days and single digit temperatures, CHS track and field has had to endure countless practices away from its beloved track.
As one of the only winter sports relying on outdoor facilities for practices, the team suffered a blow as winter weather made it nearly impossible to practice outside for a majority of the second half of the season.
"It's hard to be motivated to run when it's below freezing and snowy out," junior distance runner Lucy Srour said. "Treadmills just aren't as fun."
A snowy track makes it difficult to have workouts outside. With the frigid cold, there is an increased risk of injury—an athlete can slip on the icy surface or pull a muscle.
Over the course of the season, the team had to hold countless practices inside the school building, running sprints past the classrooms and jogging around the halls.
"Halfway through the year we had to reassess goals for the season," assistant coach Dave Warren said.
However, while the bulldogs may have been set back, so have all of the other teams around the county.
"That's why track is great, the weather equalizes everything for everyone," Warren said
The only school to own an indoor track facility in the Montgomery County area is Georgetown prep, which also uses the indoor track for basketball and other sports practices.
As the team transitions from winter indoor track to spring outdoor track, eager runners are saying "no more!" to hallway running.
Last Tuesday, March 4th, eager athletes joined together with their snow shovels and took the initiative to clear the track themselves. Two hours and 23 shoveling runners later, all eight lanes of the track were clear.