Store offers autograph sessions with the pros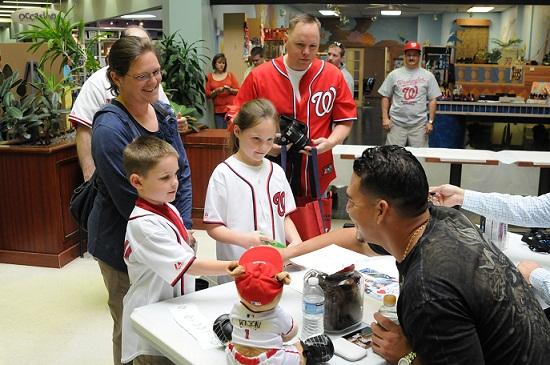 From paying for expensive seats to standing in seemingly endless lines, getting an autograph from a professional athlete can be close to impossible. Fortunately, sports fans in Potomac have the opportunity to get autographs from their favorite athletes right down the road from CHS.
For the last few years, the Hall of Fame Cards and Collectibles store in Cabin John Mall has been inviting athletes to come in and sign autographs for customers.
"We started three years ago and it was extremely successful," owner Peter Averinos said. "We did it inside the store at first because we didn't know what to expect."
According to Averinos, during their first signing with Brandon Banks of the Redskins, over 200 people attended, and at any given point 65 people were inside the store.
Over the years, the store has invited athletes from different local sports teams, including Ryan Kerrigan and Lorenzo Alexander of the Redskins and Wilson Ramos of the Nationals.
According to Averinos, the price of the autographs depends on how much he has to pay the athletes. Prices have ranged everywhere from $0 to $50, with the most expensive one being Kerrigan, who charged $50 per autograph.
"I don't necessarily make money off of it," Averinos said. "The whole idea is to do it for the kids and to advertise for the store."
With these autograph events, not only does the store offer the opportunity to get signatures from professional athletes, but it also offers the opportunity to connect with the athletes on a more personal level.
"It's exciting," Averinos said. "You watch them on TV, but when you meet them, you realize they're just normal people."
According to Averinos, the autograph signings draw large crowds and those who attend seem to have a good time.
"Everybody's happy with it," Averinos said. "Every time I get an event, I get all sorts of posts on Facebook from customers talking about how much they enjoyed it."
While the store does not have any autograph signings planned going forward, students can visit the store and join their mailing list to receive information on any upcoming autograph signings.
"I think it's awesome that there's a place around here that offers autograph signings," Silver said. "It's a great opportunity for CHS students to meet their favorite athletes without having to go too far or pay too much money."