UMTTR tournament held in memory of Rosenstock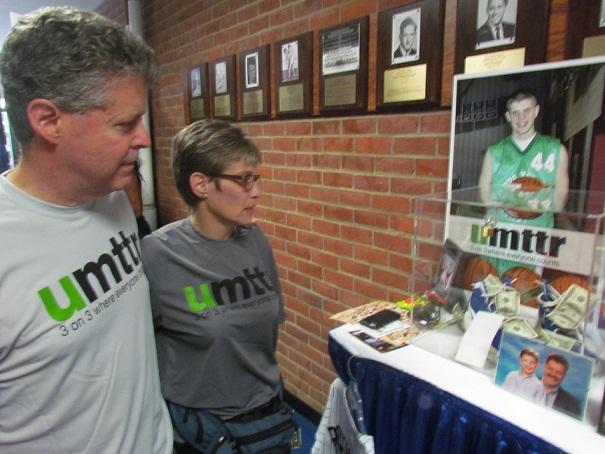 By Ben Fox, Sports Editor
September 25, 2013
It can be difficult to judge the value of a person's life until after they are gone. Many knew Evan Rosenstock as friendly, confident, always-smiling, and quick with a joke. He played varsity basketball, loved the Washington Capitals, and seemed ready for a bright future. But after the sophomore ended his own life on May 20, 2013 in a tragedy that rocked the CHS community, Evan became known to many in Montgomery County as a symbol for the growing need for teen suicide research and prevention. Now, four months after his passing, a dedicated group of individuals is striving to make sure Evan is never forgotten.
The Bullis School hosted the first annual UMTTR (pronounced "you matter") 3v3 Basketball Tournament & Fun Day in Memory of Evan Rosenstock on Sept. 15.
The UMTTR tournament, led by Evan's mother, Sue Rosenstock, and CHS senior Erik Roberts, aims to both keep Evan's memory alive, and prevent cases like his from happening again. The organizers chose the Mayo Clinic for Teenage Depression and Suicide Research and the Positive Coaching Alliance (PCA) as the tournament's benefitting organization.
Roberts, who was Evan's teammate on the basketball team last year, wished to honor his friend's passing by promoting teen suicide research and development through one of Evan's passions, basketball.
"Evan was my teammate, and I felt like no one was doing anything about it," Roberts said. "So I thought the best thing to do would be to celebrate his life by playing the game he loved and reminding people that they matter."
Roberts was joined in running UMTTR by Whitman junior Justin Kay, who was chosen to head the tournament next year, and McLean sophomore Carter Caplan, who was chosen to head in 2015.
According to Caplan, who helped to organize celebrity appearances at the tournament and also runs the UMTTR Facebook page and website, UMTTR.org, his involvement in the tournament stemmed from his leading role in running wristband sales at CHS during Evan's memorial service. Profits from the wristband sales went to both UMTTR and To Write Love on Her Arms, a non-profit organization dedicated to helping those with addiction, depression and suicidal thoughts.
"I heard about his death on Twitter and it just shocked me," Caplan said. "[CHS seniors] Brandon Hubbard, AJ Coleman and I ran the wristband sales at CHS and later I was with Sue, and she asked me if I wanted to be a part of UMTTR."
To increase the profile of the organization, the tournament enlisted the help of many local celebrities, including former Washington Wizard Gheorghe Muresan, (whose son sophomore George is a current CHS JV basketball player), former Washington Capital Yvon Labre, sports author Dave Ungrady, and the Washington Greenhawks semi-pro basketball team.
The Mayo Clinic and PCA were chosen as benefitting organizations because of their significant roles in helping to prevent teen suicide.
"[The Mayo Clinic] is a very reputable hospital," Roberts said. "All money going to them will be used productively. It's a general research hospital, and we're donating to the teenage depression and suicide division."
The money being donated is expected to be used by the PCA to start a mid-Atlantic chapter of the organization, which will include a corporate office with a full staff.
"Sue Rosenstock really wants to make a change in youth sports, and figured that this was the best way to do it," Roberts said.
According to the PCA's website, postivecoach.org, the organization's goal is to create "'Better Athletes, Better People' by working to provide all youth and high school athletes a positive, character-building youth sports experience" through workshops, partnerships with schools across the country, online courses and more.
"Our mission is to transform the culture of youth sports by changing the win-at-all-costs mentality to positive coaching where kids have a positive character-building experience," PCA partnership manager and representative Jake Wald said.
For Sue, having a regional office of the PCA is a method of changing the hyper-competitive environment of many high school sports in this area.
"There is a systemic problem in our whole regional area where people are out of control in sports of all kinds," Sue said. "It's parents, it's everybody. Our goal is to change the culture into a more positive environment."
Roberts also sees the tournament making an impact on those who are currently going through depression.
"It's going to tell them that no matter how insignificant they might feel, they are so important," Roberts said. "This is going to show them that."
There is still much talk about how exactly the CHS community, including parents, students and teachers, can help prevent teen suicide and depression.
"I think we can do more with depression awareness," CHS athletic director Scott Rivinius said. "There is not really a great answer; it's a case-by-case situation. One thing that's good about this tournament is that it's CHS students taking time to remember Evan."
Thanks to his mother and dedicated members of both the CHS and Montgomery County community, the loss of Evan Rosenstock will have an effect on our area for years to come.
According to Caplan, the tournament has become Sue's way of using an unthinkable situation to make a difference in Montgomery County.
"She's been trying to make the most of everything, and that's what is keeping her going." Caplan said. "Seeing her smile is something special."