Fantasy Football finds a new arena: the classroom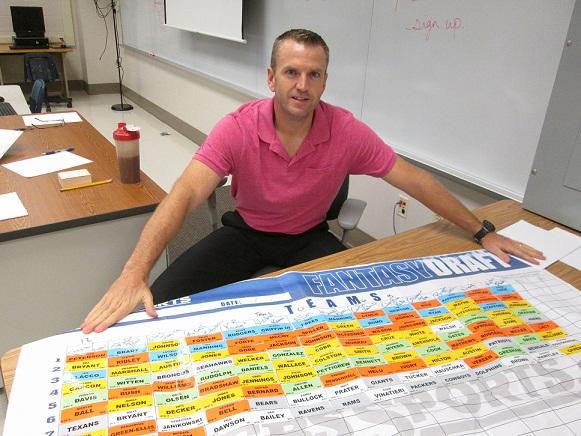 Senior Greg Seymour selected Minnesota Vikings running back Adrian Peterson as the first pick of the 2013 Quantitative Literature Fantasy Football draft.
Starting this year, Quantitative Literature teacher James Collins is incorporating Fantasy Football into the class as a way to show students that math is used throughout our daily lives.
"I'm very passionate about having kids see where you can use math outside of the building," Collins said. "In your real lives and everything else, the numbers are all around you. We make decisions every day with numbers without even thinking about it."
Collins, who has been a Fantasy Football fanatic for 15 years, thought a league would be a fun way to teach students. He is trying to teach his students effective ways to analyze statistics and numbers to make better decisions financially when investing.
"There's no guarantees with stocks, just as there's no guarantees with players," Collins said. "You could take Adrian Peterson in the first round in a Fantasy Football draft and he gets hurt week two. Your season could go down the drain. You may pick a stock, thinking they're a great stock, and then the company goes bankrupt and something bad happens to the company and you lose money."
Collins' students appreciate that they are able to play Fantasy Football in class as they feel it makes class more exciting.
"I play on the football team, so anything football is enjoyable," Seymour said.
According to the Fantasy Sports Trade Association website, Collins and his students are part of the almost 33.6 million people playing Fantasy Football in 2013. However Collins' league is more math-based than most.
"We are not picking players based off of cool names," Collins said. "We are picking players based off of statistics and what's expected of them, and that's math. If not, everybody would want Jacquizz Rodgers in the first round because he's got a cool name, but statistically he is not the smartest choice."
Each student has his or her  own fantasy team in the class, and the students made their own draft choices based off of player statistics.
"We talked about whether it is better to take a higher-ranked running back or higher-ranked wide receiver for the flex," Collins said.
The prize for winning the league is pure bragging rights.
The Fantasy draft was held during class with some basic draft necessities such as Munchkin doughnuts.
According to Collins, the class was only able to get through nine rounds of the draft in order to fill their starting lineup, and the students will fill their bench using the waiver list.
"There's no prize, there's no pressure," Collins said. "I didn't want it to be competitive as much as I wanted it to be learning."