Despire perfect season, tennis finishes second at counties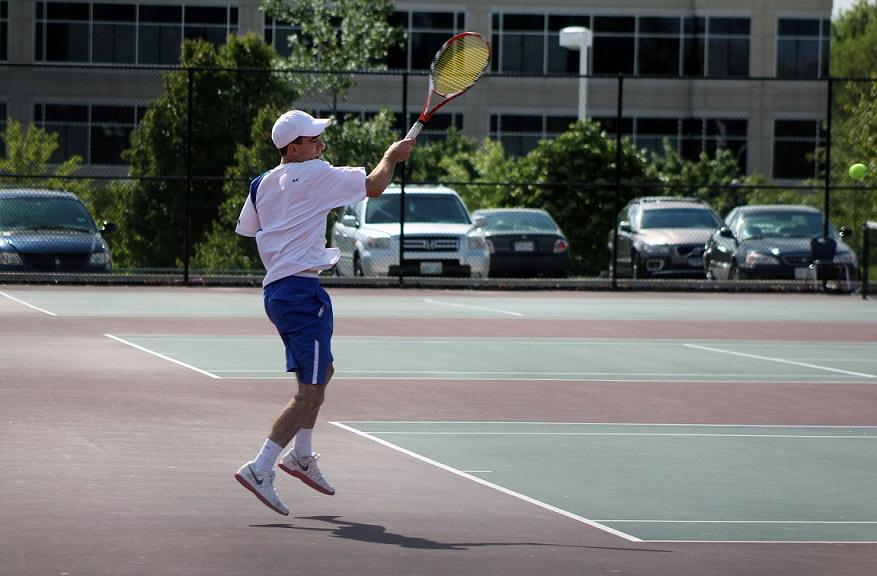 By Ethan Denicoff, Staff Writer
May 29, 2013
After several nail-biting matches, CHS finished the county tournament, May 10, in second place behind Wootton. Not only is Wootton our rival, but this is the fourth consecutive year they robbed the county title from the CHS boys.
"All in all it was a great season," sophomore Elliot Thaker said. "We just chose the wrong day to not play genuine Churchill Bulldog Tennis, and it cost us a title."
All CHS players won their matches in the first round of the county tournament. Some of the victors include seniors Michael Gauch, Kevin Chen and junior Sohrob Ganjbaksh.
"All of the matches were close, and it showed that the people who won could play well under pressure," senior captain Michael Gauch said. "We are very capable of winning, but everybody has to stay focused and go out there and play like were underdogs trying to prove that we are the best team."
Under the leadership of Dave Hurless, the new head coach this year, the Bulldogs have played with the utmost intensity and, as a result, have had great results.
According to senior captain Christopher Gauch, Hurless is always cracking jokes "as if he is another player," and creates "a great environment that we can all thrive in."
In addition to a strong post-season, CHS had a perfect regular season, finishing undefeated.
CHS beat Whitman 7-0, April 26, with wins coming from Michael Gauch, Chen and doubles team sophomore Jared Spiegel and sophomore Kevin Wang.
"For a while it looked like it might actually come down to the wire," Thaker said. "I knew we could rely on [Kevin] Terminator Chen to pull it out, and then the other matches finished, and we knew we had it."
For the first time in five years, CHS defeated Wootton April 24. Before this loss, Wootton had a 57-match win streak.
"It felt amazing to beat Wootton because they hadn't lost in such a long time," junior William Szamosszegi said. "We are the team that ended their streak, which solidified our slot at the top."
Szamosszegi and Chen played first, with Szamosszegi winning and Chen losing. Number two doubles lost their match putting CHS behind 2-1, but then Michael Gauch clutched his match to make it even. Christopher Gauch and Thaker won their doubles match, putting CHS ahead 3-2.
"Chris and I played a feisty, emotional match with a ton of screams and high-fives on both sides," Thaker said. "We ended up pulling out a killer match."
Finally, to close out the win, Ganjbaksh, or "Big Sohrob," won his singles match. A huge dog-pile on top of Ganjbaksh followed after they shook Wootton's hands.
"To be honest I didn't know they had a 57-match win streak until after the fact," Christopher Gauch said. "But beating them was surreal."
Despite the regular season victory over Wootton, CHS' inability to repeat the win at counties left them dissapointed.
"It would be great if we [had] won, but all I can ask as a senior captain is that when the people who played are done with the last match, whether they win or lose, they are able to look every team member in the eye and say I gave everything I had," Michael Gauch said.
Next year, Ganjbaksh, Szamosszegi and Thaker say they will return with more fire and determination than ever to beat Wootton.