Tennis starts the season with total domination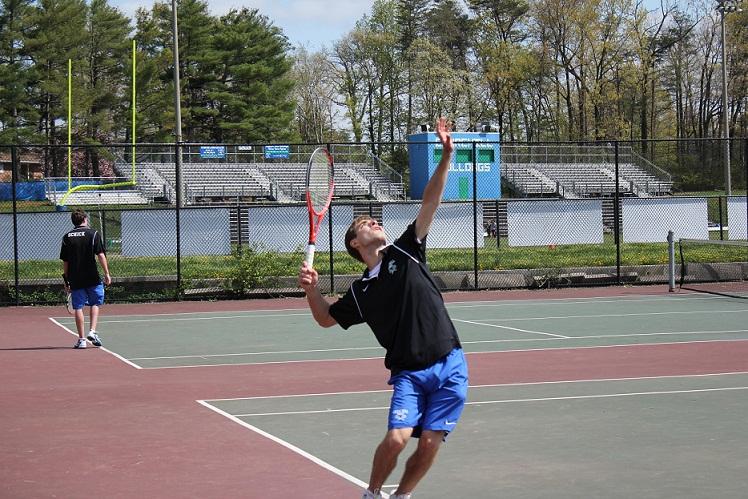 By Ethan Denicoff, Staff Writer
April 30, 2013
Boys tennis has come out this season with more fire than ever. Starting with a 5-0 record, the Bulldogs appear to be invincible.
Churchill had a 7-0 win April 17 against Blair. Senior captain Michael Gauch faced a tough opponent, but managed to clutch the win in the third match. In first doubles, sophomore Elliot Thaker and senior captain Christopher Gauch beat the one seed from last year's county championship.
"Blair has always been a solid team, and we always expect it to be a dog fight," Thaker said. "This time we fought harder and came out strong."
Richard Montgomery fell to the Bulldogs just as hard as the rest April 5. CHS won 7-0 without dropping a single set for the third time this season.
"RM we expected to beat, but anything can happen when you play the matches," Michael Gauch said. "The fact that we won our first 4 games 7-0 shows how good the entire team is and that all of the players will be able to step up and play. That gives us a lot of confidence moving forward."
The third match against Walter Johnson April 4 was more of a challenge, but the Bulldogs still prevailed. Junior Will Szamossegi won his match against a player ranked in the top 500 in the country. Seniors Michael Gauch, Kevin Chen and Ben Shick all won their matches. Senior Christopher Gauch and Thaker also won their doubles match.
"WJ was a big match for us," Thaker said. "We went in seeing them just the way they are, one of the top teams out there. We didn't underestimate them, and we went out there and played like it. Everybody was up for the challenge, and I think that match got the word out there that we Dawgs are here to fight."
The Bulldogs' second match at Springbrook had a similar result, with all matches won and a total of only five games dropped.
"As Springbrook is not in our division, we expected a win," Michael Gauch said. "However, it was a useful match because it was cold and windy, so it helped us learn how to adjust to playing in poor conditions."
In their first match against Northwest March 21, the Bulldogs showed up and won every match without losing a single set.
With this momentum continuing, the Bulldogs have aspirations for the county title.
"We're going for the county title and won't settle for anything less," Thaker said. "There are a lot of good teams standing in our way, namely Wootton [April 24], but if everyone brings their game, we have the goods to do it and we all think we will."