Track places at regionals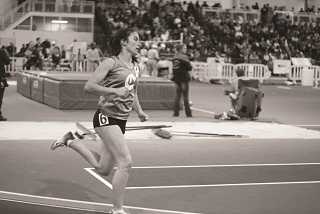 The indoor track team hopes to improve next year after a mediocre showing at states.
Select members of the team attended the state championship Feb. 19, including Srour, who placed second in the 800m as well as the 1600m.
The girls relay team, consisting of juniors Breanna Boggan, Juhee Kim, Jessica Weinreich, and Srour placed third in the 4×800 relay.
"We scored 23 points for girls, which is really good for states," Jacobson said.
In the Maryland Public Secondary Schools Athletic Association 4A West Regional Championships Feb. 7, Churchill showed their true colors.
'The team did really well as a whole at regionals," sophomore Sam Lee said. "I'm proud of what we've accomplished together."
Srour came in second place in the 800m, as well as fourth in the 1600m. Sophomore David Fitzgerald also pulled through for the team, placing second in the 1600m and seventh in the 800m.
"I hit a season best of 4:31 in the mile and was happy with finishing second," Fitzgerald said.
Junior Kyle Beatty came out on top, placing first in the pole vault.
"The team has done very well so far," Beatty said. "We have a lot of top runners in the county."
The team also attended the Montgomery County Indoor Track County Championship Jan. 26.
According to Jacobson, the team did not perform well at the competition, aside from sophomore Lucy Srour, who won the 800m.
"I won the 800 and got second in the 1600 at counties which was super exciting," Srour said. "I'm hoping to make states in multiple events including the 4×800 relay."
Throughout the team's struggles, there has been some success. Srour came in fourth on the mile, and the team placed in second in the 4×55 shuttle hurdles at the Fast Track to Philly meet Jan. 26.
Although a few seniors will graduate this year, Jacobson is not worried about the impact on the team and looks forward to upcoming seasons of track and field.
"We should do even better for outdoor track because more people will join," Jacobson said. "Our boy sprinters are getting a lot better."