Hockey state bound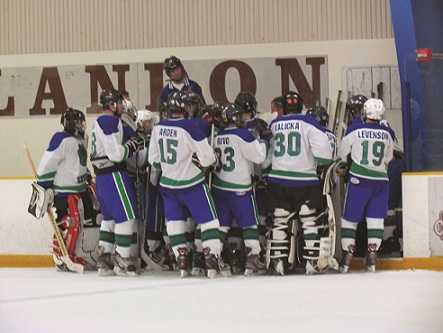 With a 6-0 win against Oakdale Feb. 22, the hockey team secured a divisional title and a spot in the state championship.
The Bulldogs also claimed the Montgomery Hockey Conference Championship title after defeating Walter Johnson, 9-0, Feb. 15.
The Bulldogs came out hard in the first period, scoring five goals. From there the team kept control of the game, allowing the Wildcats just two shots on goal in the first 15 minutes of the game.
Senior captain Zach Satin hopes the team comes prepared for the state semifinals Feb. 21.
"I think we need to make sure we come out fast like we did tonight for our next game," Satin. "Everyone has been contributing solidly and our goaltending has been impressive."
Senior captains Satin, Connor Martin and Zach Arden each scored two goals, and Juniors Noah Fleishman, Brandon Levenson and freshman Ian Kwant also scored.
Prior to claiming the championship title, the Bulldogs defeated Wootton in the semifinals, 7-0, Feb. 11.
"They came out hard and we were a little slow in the beginning, but we had a great third period and scored four goals," Satin said.
The team only scored two goals in the first period, but was able to gain momentum later in the game. Martin scored two goals during the third period, and Kwant and Levenson also scored.
"We get up early twice a week and work really hard all in hopes to accomplish our one goal, which is to win the state championship," Martin said.