Boys basketball starts off with winning record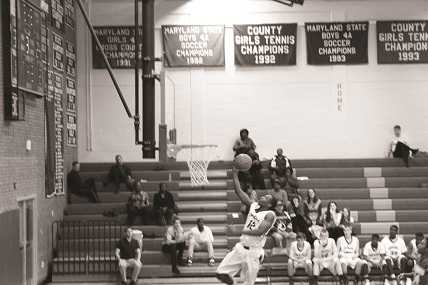 The boys basketball team has started the season with a 2-1 record, earning its winning record with a blowout 66-36 win at home against Gaithersburg Dec. 11.
Junior Allen Njumbe led the team with 20 points, and senior Bryant Wheatley pulled down 15 rebounds.
"We've got a group of talented players," head coach Matthew Miller said.  "We're pretty quick, and we've got some good slashers."
The team suffered a 48-41 loss in its second game against Sherwood Dec. 8.
After leading by one at the end of the third quarter, the Bulldogs lost a closely contested bout.  They were outscored in the fourth quarter and trailed Sherwood in rebounds the whole game.
"We played really hard," said starting point guard Matt Moshyedi.  "We just missed shots."
The Bulldogs opened the season with an emphatic win over Damascus at home Dec. 5.  The team overcame an early deficit in the first quarter to pull off a 68-53 win.  Shooting guard Malik Harris led the way with 22 points.
"Our four first-time starters set a good tone," assistant coach Scott Rivinius said.  "We had good teamwork."
After losing seven seniors, four of whom were starters, the team is looking to rebuild with youth and athleticism.
According to Miller, the team's main focus is to use its athleticism to stop transition baskets and out-rebound opponents.
"We've gone back to the drawing board," Miller said.
According to Moshyedi, the team has focused on promoting leadership.
"It is a tough process to go through," Moshyedi said. "But we're learning fast."
The Bulldogs look to maintain their success at home against B-CC Dec. 21.