Teacher triathlete to compete in Maccabi Games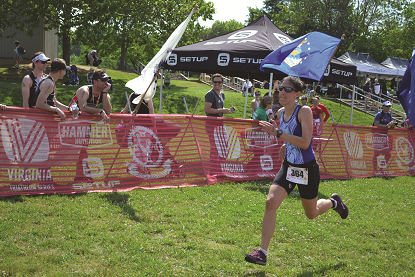 CHS resource teacher Brielle Dana has recently qualified, among only 20 other U.S. candidates, to represent Team USA in the Maccabi Games, or "Jewish Olympics." She will be promoting her Jewish pride and awareness of Israel in the triathlon.
Every four years since 1932, Jewish athletes from all over the world are chosen to participate in this third-largest sporting event in the world. The 19th Maccabi Games will be held in Israel in July 2013.
"I swam as a kid, ran track in high school and at UMD and finally got into 100 mile century rides biking," Dana said. "Last year I decided to put it all together."
Dana has been participating in triathlons for about a year now. She has placed first in her age group in the Giant Acorn (Olympic Distance: 2:25:48), Fort Ritchie (Sprint Distance: 1:33:21) and Iron Girl (Spring Distance: 1:31:37) triathlons.
"Scoring high for my age group probably put me over the edge for my selection committee in the Maccabi games," Dana said. "I only needed to submit three times, but I put in six."
According to Dana, training for the triathlons takes up a lot of her time, but it is something she loves doing.
Dana wakes up at 5 a.m. Monday through Friday to begin her daily workout routine. She alternates days with 45 minutes of swimming, running or lifting weights before school. After school, Dana does her second workout of the day, and on weekends, she either bikes or runs with her friends.
"Brielle is one of a kind when it comes to her dedication and commitment to the sport of triathlon, and the intense training that goes with it," said her boyfriend of two years, Marc Lizmi.
Not only does Dana have a group of friends that she trains with, but she must also follow a healthy diet of proper protein, vegetables, whole grains, and of course, fluids.
"Hydrating is the most important," Dana said. "It really helps me recover and overall, perform better."
According to Dana, she has a lot of support not only from friends and fans but also from her parents and boyfriend, who plan on going with her to Israel in July.
"I think she's driven by the love and support she receives from her friends and family, along with a constant desire to push herself," Lizmi said.
In order to raise enough money to send herself to Israel, Dana has applied for a scholarship through Maccabi and plans on hosting a silent auction.
Dana has raised $475, but she still needs a total of $6,000 by February to participate in the games.
She has very optimistic hopes for her performance at the Maccabi Games next year.
"I want to win first place not just for my age group but for overall female," Dana said. "If not, I will know that I had tried my best and performed to my best ability."