Field hockey seeks consistency going into playoffs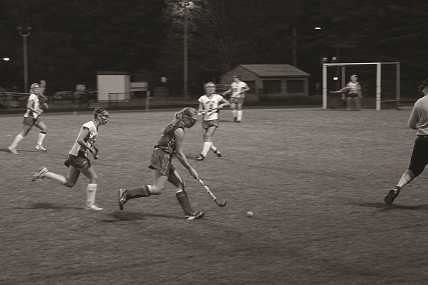 The varsity field hockey team looks forward to the playoffs after a season with dominating wins and some close loses.
After an emotional start to the seniors' last home game, the team managed to pull a 5-0 win against Paint Branch Oct. 17, putting them ahead of B-CC in the division rankings.
"We played really well because everyone put in their best effort and tried really hard," junior Catherine Nardi said. "We especially wanted to win because it was our senior game and our last home game of the regular season."
Prior to the commanding win against Paint Branch, the Lady Bulldogs fought a tough 1-0 loss against Whitman Oct. 15. Senior goalie Melanie Maino had six saves.
"At Whitman, we had some strong individual performances, but we had a tough time building team momentum throughout the game," head coach Cay Miller said.
Before the loss to Whitman, the team blazed to a 4-0 win against Watkins Mill Oct. 9.  Freshman Annie Moshedyi and seniors Catherine Roberts, Alyssa Weiss and senior captain Jenn Shim each scored one goal.
"Our team communicated well and came back really strong after halftime to win 4-0," Nardi said.
The team took another rough loss against Walter Johnson, 5-4, Oct. 3.
After the ball rolled into a corner with the score tied after time ran out, the teams had to finish out the play, and WJ scored a last-second goal.  Senior Christina Michaels and junior Jamie Lescht each scored one goal while Shim scored two goals, but the team could not hold off Walter Johnson's final rally.
"We kept pushing the entire game and were really proud after," Weiss said.
Maino had 16 saves, and Michaels and Weiss each assisted with one and two goals, respectively.
"We definitely pushed through and played our hardest," Weiss said.
The team usually plays with three forwards, three midfields, one "high sweep" and three defenders.  When the team is up by one goal and time  is running out, the Lady Bulldogs switch to a less aggressive system, a low sweep behind the defense.
"During the WJ game, we switched to a low sweep with 13 minutes left, but they scored a goal within two minutes of the switch so we went back to a high sweep," Weiss said.
Prior to the WJ match, the team took a 3-1 loss against rival Wootton Sept. 28.
The Lady Bulldogs hope to keep improving, mentally and physically, to go far in the playoffs.
"I think it depends on whether or not we show up," Weiss said.  "We're a strong team with the potential to upset any other Montgomery County team."
The team started playoffs against QO Oct. 25.