Track achieves personal goals set for Penn Relay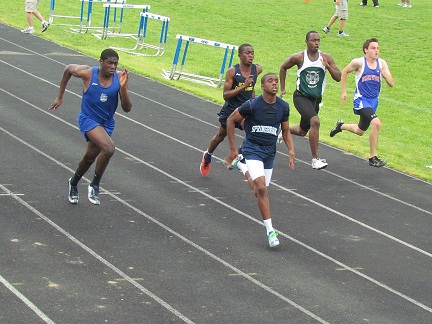 Select runners from the CHS track and field team participated in counties May 9 at WJ and the Penn Relays April 26-28 at the University of Pennsylvania.
At Counties May 9, the girls finished seventh overall, scoring 38 points, while the boys finished third overall, scoring 60 points.
Freshman Lucy Srour finished third in the 800 meter run with a time of 2:23.71, and senior Will Conway finished second in the 800 with a time of 1:57.19. Sophomore Kyle Beatty finished first in the boys pole vault, and senior Nadim Elhage finished first in boys shot put. Sophomore David Kaplan finished second in the discus throw.
Although the varsity boys are losing two state champions, Elhage and Conway, coach Scott Silverman is proud of his team and is glad that he is seeing signs of improvements.
"It's going to hurt that we are losing two state champs on the boys side, but most of the girls are coming back," Silverman said. "Last night showed me we are moving in the right direction.
At Penn Relays, freshman Julia McDermott, sophomore Emma Coleman, junior Jenny Lewis and senior Taylor Caulk represented the girls and finished the 4×100 in 51.25 seconds. Srour, McDermott, Lewis and junior Mary Lee Lawrence also ran the 4×400 in 4:17.26.
"It was good because we knew we weren't going to be able to win it or anything, but we beat our goal time which was exciting," Srour said.
For the boys team, Conway, junior Jemuel Phillips Spencer, junior Mike Hammer, and senior Micah Phillips Spencer ran the 4×400 with a time of 3:30.78, while Jemuel, Michah, Hammer and Junior Kyle Veator ran the 4×100 in 44.80.
The runners were not expecting to win, so they set a time to focus on instead. Since the Penn Relays are such a large event, the coaches were not looking to put any pressure on them.
"At Penn Relays, when we set a goal time for the boys, if they didn't make it, we would joke around with them saying we would leave them at Penn," Silverstein said.
Elhage was the only CHS athlete to be registered in an individual event, shot put. He threw a distance of 48-02.50, ranking 18th in the event.
"We just want the team to have fun and we want to build camaraderie," Silverstein said. "It's a fun experience."