Girls lacrosse offense dominates opposition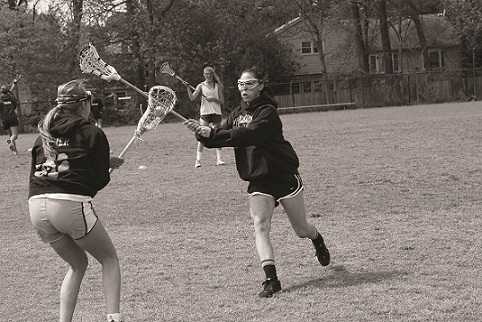 Continuing its strong season from last year, the girls lacrosse team began this season with wins against Bethesda-Chevy Chase, Whitman, Walter Johnson and Paint Branch after losing to Damascus.
  In the April 18 against B-CC the Bulldogs beat the Barons 17-5.
 "The team played consistently from start to finish," coach Christian Gjeldum said. "They worked hard throughout the game."
 CHS won 14-6 April 14 against Whitman with goals from seniors Maddy Flax, Eliza Farha, Mairin Hall and Megan Brody and junior Bailey Boyland.
  "We expected to win this game and we are glad that we came out strong," junior midfielder Emily Muscarella said. "We did not go easy on them."
  In the April 12 game against WJ, the team won 13-8 with goals from Flax, Farha, Hall and freshman Rachel Thal-Larson.
 "The whole team did very well but senior Alex Fox really stood out," head coach Christian Gjeldum said. "Alex saved a lot of free position shots, which are one-on-one shots with the goalie."
  The Bulldogs beat the Panthers 20-6 March 28 with goals by Hall, Brody, Flax and juniors Allie Amoroso, Kylie Schlesinger and Muscarella.
  "Everyone trusted each other on the field," Gjeldum said. "We got a lead in the beginning because of Mairin, Maddy and Megan, and kept it going."
  In the second half, Amoroso had three goals, and Schlesinger and Muscarella had two goals.
  "Our defense was strong and we played together as a team," Gjeldum said.
  Although the team had a lead against Damascus, it lost to the Hornets March 26.
  "Everyone gave their best effort, but it just wasn't enough," Muscarella said. "We dropped the ball a lot and our morale was down."
 The Bulldogs play Clarksburg May 1.