Athlete of the Month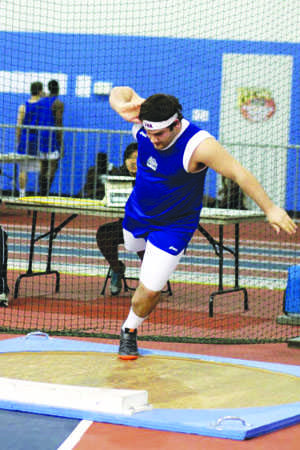 Hang on for a minute...we're trying to find some more stories you might like.
 A hand contusion did not stop him. Neither did a dislocated finger. Or a high ankle sprain. Even a fractured vertebra in his back didn't. On a fractured knee he won the state championship for discus in Spring 2011. And now, senior Nadim Elhage is finally healthy.
 During the indoor track season, Elhage won the state championship for shot-put, collecting many honors along the way, including All-Gazette, All-Met and team MVP.
 Never short on confidence, Elhage, who is often referred by his friends as solely "Dream," decided in eighth grade that he would be a thrower for the CHS track teams.
 "At the end of eight grade I was a pretty strong kid, so I assumed I would be good at it," Elhage said.
 Fitting his borderline cocky persona, according to Elhage, he first realized his potential when he was just a freshman after he made the all-county all-freshmen team.
 One thing that has drawn Elhage to the sport is the positive attention and praise he receives while performing.
 "I love it when everybody's watching and thinking, 'Damn, one day I want to be like him," Elhage said.
 Elhage has been a staple on the varsity football team since he was a sophomore. At a menacing 275 pounds, Elhage has been a starter on the defensive line but also found himself a role as the team's place kicker this year, even kicking the game-winning field goal against Walter Johnson during the homecoming game.
 According to track and football teammate, senior Joey Kale, Elhage can best be described as talented, confident and motivated.
 "Nadim is a great teammate," Kale said. "He's always dedicated to the team on both track and football and supportive of his teammates.  That being said, he's not always the most serious player on the team, but he makes up for any of that with his talent and confidence and swagger. He's also a great teacher.  He taught me how to shot-put and discus and gave me pointers in football all the time."
 Elhage has committed to Bowdoin College in Brunswick, Maine, where he plans on becoming a NESCAC champion in shot-put and discus.
 According to Elhage, he chose Bowdoin because it allowed him to continue in both football and track.
 For now, Elhage plans on enjoying the rest of his time CHS. He won Mr. Churchill after falling short in the finals last year and will defend his discus state championship during the outdoor track season.
 He will leave a void as big man on campus once he leaves, and his impact on the school and everyone he has come in contact with is undeniable.
"Nadim is really best described as unforgettable," Kale said. "He's always the big man in the room or on the field.  He's definitely left his mark on this school and me for a long time."