Individuals perform well at indoor track regionals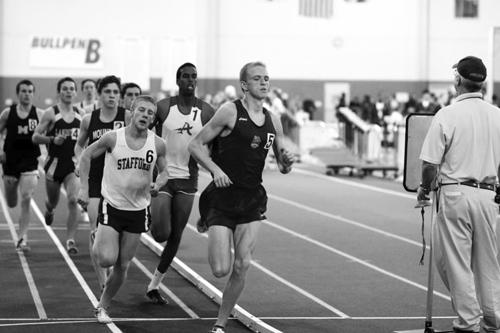 By By Nicole Malament, Archive Manager
February 21, 2012
With one meet remaining in the season, the track team participated in Regonals Feb. 9, the Virginia Tech Invitational Jan. 27, the Montgomery County Championships Jan. 23 and the Montgomery Invitational Jan. 7.
 At Regionals senior Nadim Elhage placed first in shotput, senior Will Conway placed first in the 800 and second in the 1600, senior Zach Weinstein came in first in the 3200, and freshman Lucy Srour placed second in the 1600 and fourth in the 800.
"We were just expecting individual wins because it was not a big team effort," head coach Paul Jacobson said. "Very few runners qualified for this meet and only Elhage, Conway, Weinstein and Srour qualified for states."
At the Virginia Tech Invitational Jan. 27, senior Micah Phillips-Spencer finished sixth in the 55 meter, and Elhage placed third for shotput.
 "We competed against over 100 schools from Virginia, Maryland, Pennsylvania and North Carolina," Jacobson said. "I was proud of the team's effort."
 The boys finished in second with 67 points, losing only to Quince Orchard at the Montgomery County Championship. Conway finished first in the 1600 and 800, Phillips-Spencer won the 55 meter, Weinstein finished second in the 3200 meter run, and Srour placed third in the 1600.
 "We had a lot of good performances, but because Quince Orchard had some very good jumpers, they were able to come away with the team win," Conway said.
 At the Jan. 7 Montgomery Invitational, Weinstein finished seventh in the 1600, Conway finished third with an impressive 4:24 mile, and Elhage placed second for shotput.
 "The team had very tough competition at this meet," Jacobson said. "All the best runners in the county were competing."
 As the team prepares for Regionals, it is focusing on staying strong, healthy and avoiding injuries.
"The team is not changing much," Conway said. "We believe in the program that our coaches run. We run the workouts and then we see the results."
 The Bulldogs will compete in States Feb. 21.