Graffiti deserves greater respect as an art form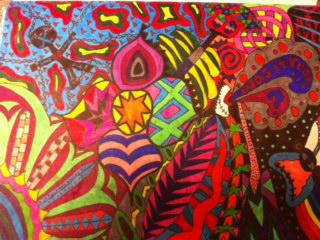 Art students often take field trips to "traditional" art museums like the Smithsonian and are taught to appreciate the more classic forms of art. In this culture, one form of art is neglected: graffiti. Most students are never taught to appreciate the art form and have never heard of 5 Pointz.
For the past 20 years, 5 Pointz, also known the graffiti Mecca of the world, has accumulated thousands of irreplaceable masterpieces, each telling a different story. Graffiti artists from all walks of life make treks to this monument and unite in one of the few safe havens in the graffiti world.
But now those who venture to 5 Pointz will no longer see these vibrant murals. Instead, they will be faced with a series of lifeless, white-washed buildings.
Jerry Wolkoff created 5 Pointz, located in Queens, NY, in 1993 when he allowed the graffiti organization Phun Phactory to paint the exterior of his buildings. In 2002, it was officially named 5 Pointz to signify the 5 boroughs of New York City coming together. Then after several failed attempts to make it a landmark, Wolkoff painted over the art to create $400 million high rises, stripping away years of beauty and expression.
If 5 Pointz was known for more "proper" art, it would not have been so callously decimated.
Society has labeled graffiti as vandalism, and its creators as criminals. On the contrary, true graffiti represents innovation. Yes, graffiti artists illegally spray-paint buildings, but what society needs to understand is that the concrete is their canvas. Graffiti deserves the same appreciation as other art forms.
According to American Culture teacher Jared Pulliam, graffiti first started as people tagging their names on buildings, and it wasn't as artistic. Graffiti then continued in the 1980s as a means of gang warfare.
Once these artists began experimenting with aerosol, however, graffiti evolved from barbaric name tagging into something more valuable and abstract.
According to Pulliam, graffiti is more vibrant and is now the Nouveau art form of the urban landscape.
With this rise in popularity of graffiti, the CHS art department has made an effort to educate students about the art form.
According to art teacher Jacquelyn Washum, she started off the year with her art classes by showing them different pictures of graffiti and letting them determine whether they believed it was vandalism. While this helps expose more students to graffiti, the art department does not have any plans to offer more education about this art form.
Another issue people have with graffiti is the inability to differentiate between profanity and true art. People who use crude language or write random things ruin the art form, which contributes to this misconception of graffiti.
Take students in a classroom, for instance. If one student is rowdy and disrespectful, it does not necessarily mean the rest of the class is as ill mannered. One insolent child should not represent an entire class, just like one piece of tasteless graffiti should not represent an entire art form.
In a world as progressive as our own, people need to move past their bias and measure graffiti by a higher standard.
According to junior artist Sam Lee, she had always wanted to see and contribute to 5 Pointz, and it's a shame that people could not fully appreciate it.
Now future artists will no longer be able to see this colossus and make their mark on the graffiti world.
It is graffiti that gave 5 Pointz life; artists gave these concrete structures a heart with every mural about love. Artists gave these buildings a brain with every painting about thought. Artists gave 5 Pointz a purpose in life – to serve as their concrete canvas.