Recent antisemitic incidents hit close to home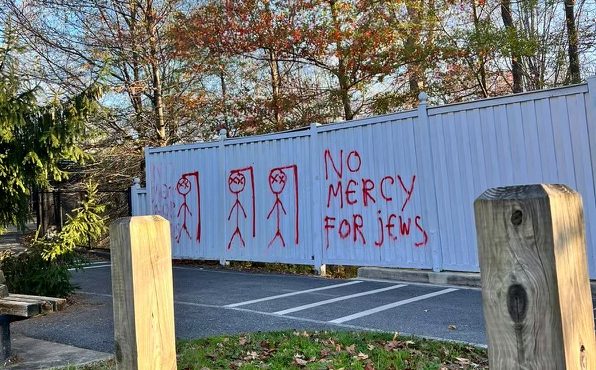 Antisemitism in our nation is not a new development, yet it somehow shocks everyone when it materializes in their communities. The messages represented by swastikas on graves and white, cone-shaped hat-donning protestors are crystal clear. The Jewish people of America and the world can only wait and fear for the day when antisemitism comes by their neighborhood. 
In October, the Montgomery County Council voted unanimously to pass a resolution to address and combat antisemitism. Although seen as a stepping stone, the resolution did not prevent the forthcoming attacks. The phrase "WHITE POWER 1488" was seen sandwiched between two swastikas by residents near the Bethesda Trolley Trail. Occurring only a few weeks ago, the antisemitic activity in a location so close to home stunned most of the WCHS community. WCHS senior Bella Zoll is not Jewish, but she cannot help but get emotional observing hateful messages against Jews.
"Living in this area, I am surrounded by Jewish people and most of my friends are Jewish," Zoll said. "It has been heartbreaking hearing them talk about the sadness they feel with the antisemitism that surrounds the community."
While the message of hate might seem foreign, Jewish people in the MCPS and WCHS communities understand it all too well. Students such as WCHS Jewish senior Brandon Gerber were not as shocked.
"The root of antisemitism isn't something that's necessarily traceable as it goes back thousands of years," Gerber said. "It's continued through different forms over time and changes between how outright it is and how it is otherwise subverted. Wherever it happens, though, everyone notices and does feel a certain setback."
While not traceable to its origin, modern antisemitic behavior can be linked to a common source. Celebrities from all areas of the entertainment industry have begun showing their true colors, verbally attacking Jews in rapid succession.
"Celebrities can be very influential and spreading antisemitic messages is more harmful than many people realize," Zoll said. "These celebrities need to be held accountable, lose their platforms and become educated on how their words are harming others. It is unsettling to see individuals continue to defend celebrities after they hurt large groups of people with their comments."
Kyrie Irving, a professional basketball player, promoted a film full of antisemitic conspiracy theories on his Twitter account. Despite deleting the tweet and apologizing for his actions, the post reached his 4.7 million followers and remains on the internet to this day. Shortly after, superstar rapper Kanye West unleashed a barrage of antisemitic remarks across social media. West claimed that he would go "Death con three on JEWISH PEOPLE" and that he "Loves Jewish people, but also loves Nazis."
"With their platform, celebrities have had and used opportunities to bring antisemitic tropes to the foreground," Gerber said. "Although many people see it and immediately think it's ridiculous, others see it as encouraging and that their ideas are supported. This happens while a whole new side, which was previously impartial now, has these ideas in their head because of the words of their favorite celebrities."
Gerber is the Greater Washington Area's president in the B'nai B'rith Youth Organization (BBYO), the world's largest teen Jewish movement, and maintains a consistent mission of stopping hate and antisemitism globally. Having antisemitic attacks happen in his community, Gerber was able to use his knowledge to contribute to the fight against hate on a global scale.
"Recently, I was able to attend an international executive body conference where we were able to provide funding to support communities that have had less access to or want to grow their Jewish identities. This helps people living in those areas to feel more comfortable in their communities and feel like they have an extra support system." Gerber said. " Although this is not a specific action of preventing antisemitism outright, the inclusion of Jewish people limits the felt effect of that the negative actions hold."
Suppose anything positive has come out of these situations. In that case, it has to be the tight-knit community that has formed in hopes of protecting the Jewish identity and preventing attacks against it. The creation of the Jewish Student Alliance at WCHS proves that people have come together to end hate.
"I think in order to combat the antisemitic surge, we have to have more open conversations," Zoll said. "People need to become more educated on antisemitism and understand how pressing the issue really is. Also, speaking out against antisemitism and amplifying Jewish voices must be prioritized to help raise more awareness."