Wellness Fair encourages mental health awareness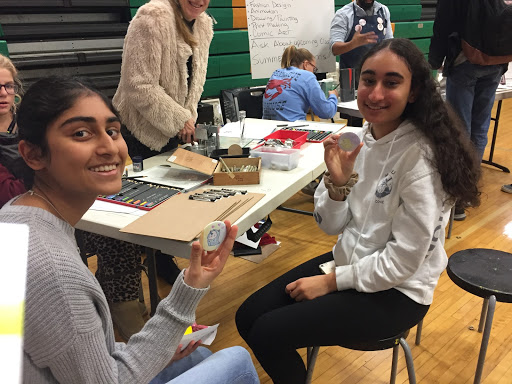 On Thurs., Nov. 21, the Thrive Club hosted the Wellness Fair. The fair provided students with the opportunity to meet mental health professionals and vendors. Many vendors that attended the event, including One Aum Yoga, Stone Branch School of Art and Every Mind. Thrive Club's officers, including sophomore Queen Balina, and members planned the event.
"Its function is to allow students to de-stress and have a good time while also learning about mental health and wellness," Balina said. "Thrive promotes mental health, wellness, and a positive school environment. This fair is one way we try to reach that goal by spreading positivity and prioritizing mental health we can give all WCHS students a better high school experience."
The vendors chosen all had experience helping students. Among this years vendors were One Aum Yoga, Stone Branch School of Art, EveryMind, Parents, Families and Friends of Lesbians and Gays, Rainbow Youth Alliance and Asian American Health Initiative. Ummtr, Anti-Defamation League and school psychologist Kelly Gruitt were also there, representing WCHS. 
The event was difficult for the Thrive Club to plan, specifically having communication as the hardest part. They had various games for the students to play, including cornhole. 
Since the vendors came for free, the fair was not an expensive event. Stress balls and candy, purchased by the counseling office, were handed out for students to enjoy. 
"Feeling stressed and overwhelmed is dismissed as part of 'the WCHS experience,'" Balina said. "I think it's wonderful that there is at least one day a year where mental health and wellness is prioritized and celebrated."
Sophomore Lucy Zhang's goal is to make wellness fun and engaging to students. She worked at the event last year and is a Thrive Club officer.
"I want to change the way students here feel about wellness," Zhang said. "Wellness doesn't mean 'boring things,' taking away from students' free time. I believe it's the small things that matter, like a piece of candy or a word of encouragement."
Sophomores Arya Iyer and Sonia Bhatia attended the event. Their favorite part of the event was the button making. "It's very fun," Bhatia said. Her favorite activities were the "button making, and the stress balls. I will be coming back next year."
The event was well attended by WCHS students. Thrive Club was happy with the turnout, especially because students were focusing on mental health awareness. 
"Thrive has the goal of spreading mental health awareness and promoting a positive environment," officer Elizabeth Qiu said. "As a Thrive Club officer, I am determined to spread mental health awareness and promote a positive environment at WCHS. In order to reach out to the WCHS community, we need action. Our officers all care very much about mental health awareness, and that is why we are doing what we are doing."
I'm really looking forward to the amount of people we see that are coming," Qiu said. "I know that some people just stop by for the free stuff, we're thankful for that. Society is ever changing. In the world we live in today, mental health has become one of the biggest issues we face. Instead of avoiding the topic, I believe it is very important to speak up, recognize it as a problem, and take action. When someone has a mental illness, that does not downgrade them or make them a lesser person. We need to support one another, be careful and supportive, and break the stigma on mental health."