WCHS English Honors Society hosts book fair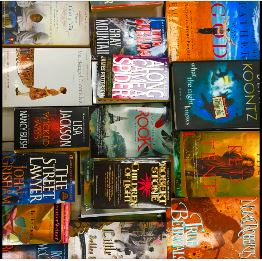 On Dec. 13, the WCHS English Honors Society (EHS) held its third annual charity book fair. The fair offered over 500 books, all of which cost less than $5.
Preparations started at lunch the day before, where EHS volunteers spent the entire period arranging countless stacks of books on carts.
"It was tedious work because we had to arrange everything by genre, author, and volume," EHS senior Jonathan Ramer said. "We also had to arrange test prep books by test, subject, year and edition."
The work was time consuming, but resulted in an organized display at the fair. Popular series such as The Hunger Games were present, and many lesser known fiction series were featured as well. Overall, the fair sold sci-fi, fantasy, realistic fiction, non-fiction and test prep books.
"The book fair serves 3 main purposes," EHS sponsor and English Teacher Mary Dempsey said. "The first is providing high quality test preparation books at a steeply discounted price. Secondly, [it] is giving back to the community.The proceeds from the book fair go to charity, and we usually raise about $400 per year."
The main purpose of the book fair isto get students interested in reading more. Each year the fair features various types of books, likely to catch the eye of various types of students.
"Finding a book can be hard, so sometimes it helps to be able to browse for a plot that piques your interest," Dempsey said.