New automated flaggers boost road safety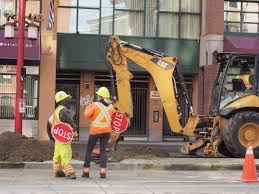 Maryland highway officials are testing a new method of directing traffic in a construction zone. Usually, a construction worker will be holding a sign that says "Stop" or "Slow," but with the new initiative, an automated flagger assistance device will replace the need for that worker.
On the road, drivers will see a trailer carrying the device on the side of the road. The device will use "Wait on Stop" and "Go on Slow" signs to direct traffic. Although the device will replace the workers, the hope is that it will reduce the risk those workers face.
"People do not hold stop signs normally, so I do not think the device will change anything too much," senior Justin Chui said.
Prior to the addition of the device, workers used to stand on the side of the road. However, those workers face the chance of being hit from oncoming traffic, which led to the introduction of the flagger device.
According to a 2017 National Work Zone Safety article, there were 710 fatal crashes that occured in work zones across the nation.
Since the introduction of the automated devices was announced, the state has already began to test the device.
According to a Nov. 23 Maryland Department of Transportation news release, a device was used during a drainage project at an intersection north of Cumberland, MD. The device turned out to be a success, as traffic was properly directed.
With the devices continuing to be tested across the state, the goal is to remove the need for workers to stand on the side of the road, eliminating the risk of those workers getting struck from passing vehicles.