Senior Class Fundraises for Annual Events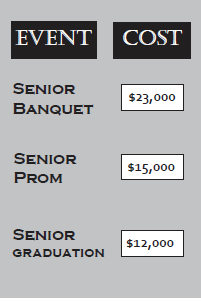 Fundraising has been an important activity for the senior class of 2017. They had multiple fundraisers this year and throughout their four years at CHS in order to fund senior events like prom and the senior banquet.
According to senior class sponsor Kevin Doherty, fundraisers this school year included the mulch sale, homecoming and an election bake sale.
"In terms of getting the money that we need, I think we have done really well," senior class treasurer Sheila Gaur said. "We will have about $5000 left over after paying for prom and all the other events, which is awesome."
According to class president Max Smith, the class of 2017 started off the year with $18,000, and reached their goal of $40,000 by making over $42,000 through the various fundraisers.
"The most successful fundraiser that we had was the junior year silent auction," Smith said. "Not only did we raise over 5,000 dollars, but [we] got countless students involved soliciting over 100 prizes from local businesses and showcasing a half dozen student performers."
These fundraising efforts are organized by members of  the Student Government Association (SGA) and executive board, and as this group of students spends so much time together, many of them grow close. As a result, they improved their fundraising results and learned from their mistakes over the years.
"I think we have done a great job of getting student involvement as well as reinforcing accountability through informing parents," Smith said. "This is a skill that we learned through the years."
According to Doherty, seniors can help fundraise by attending senior banquet and prom.
"One thing we could have improved on is getting more people from the class involved, but we tried to do that by getting people to come out to the silent auctions, having apparel sales, and getting the word out about mulch sale," Gaur said. "It's very hard to have everyone actively involved, but I think those who wanted to be involved found ways to be."