Emblem 3 comes to the Fillmore in Silver Spring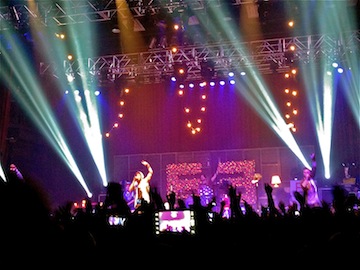 The spirited pop-rock trio, Emblem3, came to the Fillmore Silver Spring on their "#bandlife" tour Feb 27. The tour started in Texas Feb 10 and will end in the artists' home state of California in late March.
Emblem3 is composed of brothers Wesley and Keaton Stromberg and their friend Drew Chadwick. The band's live performance sounded exactly like their recorded tracks, though the use of fog machines and strobe lights added to their outstanding vocals to draw a more exciting vibe to the intimate concert.
For those who don't know their background, Emblem3 hit it big after finishing fourth on the second season of The X Factor USA. Simon Cowell then signed them with Syco Records and Columbia Records.
Upcoming artist Jackson Guthy and the pop/hip-hop duo MKTO, also from California, opened the show. The music exhibited prior to Emblem3's songs was similar in genre and style, accentuating the fluidity of the show.
Jackson Guthy put on a great, spirited performance and showcased his wide vocal range and outgoing personality. Following the singer, MKTO performed a number of their songs including the hit number "Classic" and their new single "Thank You." They too helped pump up the audience's enthusiasm.
For the main act, the stage was set up like a garage that seemed to belong to one of the members of Emblem3. It was filled with surfboards, skateboards and even a lava lamp. Lights were also found everywhere: some were strung from the ceiling and others spelled out "E3" in a multitude of different colors. The band brought the West Coast atmosphere to Maryland with their summer-y, upbeat songs.
The trio did a great job of connecting with their audience. The boys took phones from members of the audience in the front row and photographed themselves performing. Then, they handed the now "celebrity-touched" items back to their ecstatic owners.
"I thought 'Girl Next Door' was really cool because it was upbeat and fun to dance to," sophomore Juli Malacane said. "It was also really cute because they brought four girls on stage to sing to them."
E3 also performed covers of "Can't Hold Us" by Macklemore and Ryan Lewis and "Hotel California" by the Eagles.
"I liked when they played 'Curious' and had all their friends come on stage because it showed us what they were really like and it more fun and enjoyable for the audience to watch," sophomore Maya Kohli said.