Comfort zones allow WCHS student to shine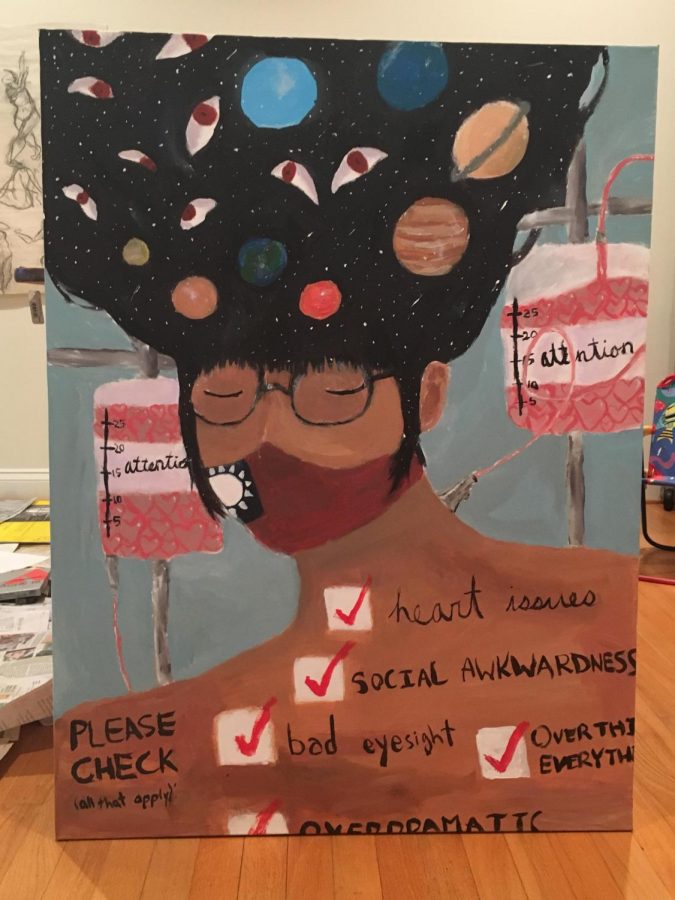 By Benjamin Pham, Advertising/Subscriptions Manager
March 11, 2019
Everyone has a comfort zone, an environment where one has a sense of familiarity, safety, and security, and there is something to be said for stepping out of it. When students step out of of their comfort zone, they accomplish things that they aren't necessarily comfortable doing, with higher levels of stress and anxiety. Additionally, it  it allows for a transition and growth period for students.
Senior Julia Maa stepped out of her comfort zone when she was preparing to complete a summer pre-college assignment at the Rhode Island School of Design (RISD). She usually can be seen sketching the ornate objects, people and nature that surround her in her journal. However, she decided to try something new and express her continued devotion to art  through painting on a canvas. RISD required the assignment that consists of anything related to art, and Maa chose to paint on a canvas.
"At first, I had trouble predicting the amount of paint that I got on my brush and the pressure I had to apply to every stroke," Maa said. "In addition, it was hard to even out the strokes so that it looks consistent with every detail across the big canvas."
Maa faced an increase level of anxiety before conquering the difficult task. That is because, with drawing, it is easier to control your sketching. However, with painting, Maa had to be more attentive, applying the right amount of pressure to ensure the paint showed up. Despite the anxiety, she was optimistic in her abilities to new something new and step out from what she's normally used to completing.
"Before this assignment, I was both excited and nervous about doing the painting," Maa said. "I was excited about doing something new, but I was also nervous because it was huge college assignment, and I had limited skills in painting."
Despite being well-accustomed to charcoal and sketching, Maa decided to give painting a chance to improve upon the basics of painting that she had already had prior in her experience with art.
"I was prompted to try something different and unique, and since I was doing very well with charcoal, I decided to try painting instead," Maa said.
However, by  reminding herself that how she made the masterpiece is what matters most than the finished product, Maa was able to deal with the added anxiety. She rose up to use this opportunity overcome the hurdle and succeed in accomplishing something new and challenging.
"I stopped worrying about messing up and focused on doing what I liked which is art," Maa said.
Maa considers this accomplishment not just an experiment for her future projects that involve painting, but she also sees this as a new learning experience, where she noted her mistakes so they can fixed for her future projects.
"It's important for students like me to be pushed to go further and go beyond our comfort in order to have new experiences," Maa said. "As we are going deeper into these new, unknown experiences, we should know that no matter where we go, we'll be okay."
Maa recommends students at WCHS step out of their comfort zone and explore new ideas to enhance their personality and build their character.
"Painting the canvas allowed me to learn new skills that I can use in college, since I am majoring in art," Maa said. "It expanded my personality and my background in the field of the arts."