Kamasine
This student run clothing brand gives students a platform to make a name for themselves while doing what they love.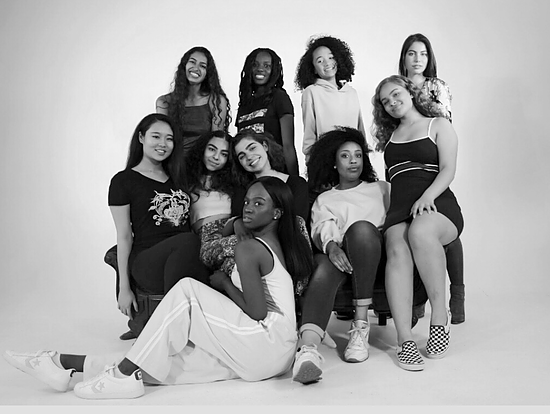 From babysitting to shoveling snow in the winter time, WCHS students have many ways of making their own money. However, senior Maya Hatoum has done something truly exceptional in creating Kamasine, a clothing site run solely by high school students.
Kamasine is an online clothing site run by high school students who have a passion for pursuing artistic careers, allowing them to express their creativity and abilities without restrictions. While Hatoum planned to start small, she wound up recruiting 25 students for her business.
"I created Kamasine as a platform for these students to be able to make a name for themselves and to meet other people with the same interests," Hatoum said. "Our communities have a wide variety of students with all types of exceptional artistic abilities. We sometimes do not recognize this because they begin on platforms that do not receive as much recognition or offer motivation to stay active in their works."
Through Kamasine, student employees can find their passions in modeling, photography, designing and selling clothes. Senior Ana Moreno became a photographer for Kamasine after deciding that it would be a great learning opportunity.
"This amazing experience has helped me realize that it is very hard to make a brand, but it is even harder to create an image for it," Moreno said. "I believe that Kamasine has an amazing future ahead and that it will grow and spread more across the state."
One difficulty that the employees at Kamasine have ran into is presenting clothes to buyers in an appealing manner. Students have to consider several factors when photographing models.
"I did not think modeling was a hard task, but by working with this models, I have learned what it takes to master the art of modeling," Moreno said. "I have learned a lot about people's angles, lighting and composition."
Hatoum, with the help of other designers, makes most of the clothing on Kamasine's site. They organize trips to thrift shops in different locations, pick out what they like and modify the clothing. They also buy fabric and make their own unique pieces from scratch, ensuring that buyers are receiving one of a kind items.
"I was offered a position as a model and clothing seller in the middle of last year," senior Jordyn Pegues said. "I decided to do it because I love fashion and also because it is a great way to meet new people."
Unlike other businesses, students working with Kamasine are not paid.
"The purpose of Kamasine is to give these students a platform for their talents and a jumpstart to a professional artist career," Hatoum said. "We have helped multiple models sign up for agencies in NY, along with helping other filmmakers to expand their portfolios."
Featured on Kamasine is junior Nura Dhar's fall 2018 collection. The collection includes three unique pieces created by hand. Two of the pieces are kimonos, a combination of simplistic patterns carefully draws a story along folded silk. The kimono stems from Japanese culture and is normally worn traditionally by women on special occasions, yet Dhar's kimonos imply a sense of modernism and refinery to its traditional aura, while also paying tribute to the variety of designs that make every slip stand out.
"I chose to make kimonos and a dress because I feel like these items can be mixed and matched with every piece in someone's wardrobe," Dhar said. "I hope that other people who are aspiring designers will turn to the Kamasine platform because it is an amazing opportunity to get the community to see your work. I learned so much about the actual process of selling products and how a clothing website runs and I hope that other teen designers have that opportunity as well."
As soon as Kamasine's website is opened, junior Marshall Harner's music begins to play. Harner's music ranges from acoustic tracks to loud RnB tracks. In June, Harner interviewed WCHS students about their interaction with substance abuse and used their stories in his songs.
"I put my music on Kamasine because I love the premise of the company as a charity and I thought that it would be a good way to get my name out there," Harner said.
Something that sets Kamsine apart from other student businesses is that it gives back to the community. Kamasine is currently partnered with Anera, a non-profit organization that dedicates their work to improving the lives of refugees in the Middle East, and Wishbone, a non-profit organization empowering low-income high school students to experience life-changing summer programs.
Hatoum was able to establish a partnership with Anera after speaking to their director. As for Wishbone, Hatoum had the opportunity to meet a few students experiencing these summer programs online. These students have motivated her to continue her business as they have been exceptional in their communities and have been accepted into top schools.
"We are a community where students can use their passions to help less fortunate students succeed in theirs with the right education; in other words, it is a win-win," Hatoum said.
Hatoum hopes that Kamasine will continue to live in the DMV community and inspire people to pursue careers in field they are interested in.
"I have personally met and worked with so many talented young artists who I think all deserve to have a platform where they can make money for charity," Hatoum said. "I am hoping that it will continue to motivate students across all communities to discover particular creative aspects about themselves and in turn help others academically succeed."