The Observer Highlights Lesser-Known Clubs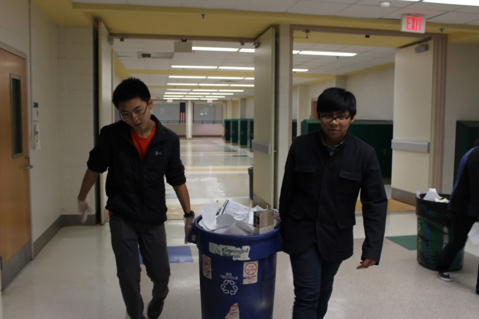 CHS has more than 95 official clubs for the 2016-2017 school year. The Observer has talked to a few more of the school's lesser-known clubs to find out what they are up to. This is the second installment of a story that ran in Jan.
Cause for Paws
Junior Isabel Hertz-Miñoso's three rescue dogs are never far from her mind and inspired her to help local dogs in need of homes.
Hertz-Miñoso, along with a few friends, founded Cause for Paws late last school year. In its first year at CHS, Cause for Paws has begun to work toward its goal of helping animals at local shelters.
"I wanted to bring CHS into the sphere of helping animals," Hertz-Miñoso said.
During lunch Jan. 27,  Cause for Paws and Key Club made dog toys to donate to the Lost Dog and Cat Rescue Foundation. Cause for Paws is also planning to hold fundraisers and volunteer at pet adoption events.
"It's been nice to sponsor a cause near and dear to my heart," sponsor Sara Nemati said. "I love student activism in general and I enjoyed participating in causes when I was a student myself. I love it when students want to 'be the change' they want to see in the world."  
Environmental Club
Most of Environmental Club's work takes place after the school day ends but that does not stop them from helping recycle paper and plastic and beautify the courtyards at CHS.
"Every Monday, we take the recycling bins from around classrooms and take them to the big bins at the back of the school," club president Jeremy Chang said.
According to Chang, the many posters and announcements they have made around the school over the last several years have improved the recycling around CHS.
In addition to helping with school-wide recycling, Environmental Club works with Gardening Club to maintain the gardens in the courtyards by removing weeds and caring for the plants.
"We are trying to open a courtyard for students to use at lunch," Chang said.
Fellowship of Christian Athletes
For the first time in three years, CHS has a Fellowship of Christian Athletes (FCA) chapter. Senior Jonathan Shyy was inspired to bring FCA back to CHS after volunteering at a FCA power camp last summer.
According to the FCA website, their goal is to inspire high school, college and professional athletes to serve their communities through religion and sports.
"I was involved in FCA when I was in high school and then I continued my involvement through college and now volunteer at different FCA events and camps," paraeducator Daniel Lethbridge said.
Meetings during lunch aim to give students time to relax and socialize as well as discuss the meaning of bible passages.  
"My favorite part is watching people of various backgrounds come together to relax and get away from all the stress," Shyy said. "It is great that CHS students would be willing take time out of their lunch to learn more about Christianity."
Red Cross Club  
Now in its second year at CHS, the Red Cross Club, founded by juniors Will Chai and Brendan Tan, works along with the national Red Cross to help people in need.
Examples of their events include raising money, running a clothing drive and informing students about how to prepare for a disaster.
"Right now, we are in the middle of planning free CPR lessons that will be offered to all students and staff members in CHS," Chai said. "We will attend fire canvassing events with the local fire department when the weather gets warmer."
Chai and Tan started the club to better our community and have continued to work with the Red Cross and grow the CHS club.  
"We stay involved because we feel that being with the Red Cross and helping kids register and bringing them out to help makes a much greater impact on our community," Tan said.
If there is a club that you would like to see featured, please contact us at [email protected].