CHS Students Take the Stage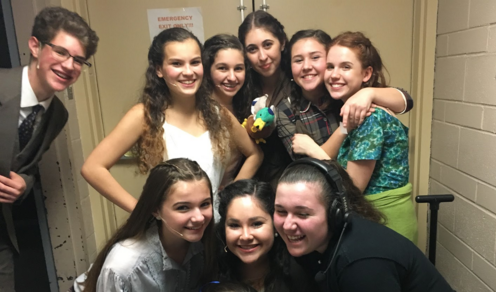 The convincing acting and dazzling set of CHS plays attract many students to watch these productions, not only to support friends, but also to experience the unity of public school thespianism.
However, once the curtain falls on closing night, it does not always mean the end of the student acting until the next school production. Many CHS actors are also part of  out-of-school theater companies.
"Out-of-school theater gives [student actors] another opportunity to be on the stage and to be active in the theater community,"said junior Ethan Miller, an Adventure Theatre Musical Theater Center and Ovations Theater members of four years. "The non-acting students get to watch their friends in these phenomenal shows that they put on outside of school."
It takes a significant amount of effort and time to be part of a play. However, this commitment does not deter students from pursuing their acting careers in productions both in and out of school. They have become masters at juggling school, theater, social life and homework
"It's extremely time-consuming," said sophomore Melissa Marks, a member of Act Two for three years. "I spend a lot more time with my theater friends. It has made it a little more difficult to just see my school friends."
The devotion to the theatrical arts is not without results. The extra practice and exposure to the art greatly improves the acting and singing skills of these students. Moreover, it makes it easier for actors to tame their pre-show nerves. If students are in chorus or BLAST, the more practice they get performing in musicals, the better.
"In out-of-school theater, we do exercises and really talk through it," Marks said.
The reason why so many CHS students are participating in out-of-school theater companies is not just to improve their acting skills. Being a part of a theater company not only gives more opportunities to act and sing, but also gives a chance to meet or reunite with friends and continue being part of a theatre family.
"For out-of-school, I've known the people a lot longer and it's like a family," said junior Josie Weinberg, who has been a part of Ovations Theater for six years.. "I've also become closer to the people in school theater."
Even though both the theater companies and school plays have their similarities, there are also some differences. CHS students who do both productions enjoy having the fresh and interesting perspective on different styles of acting. The drastic difference between the unique school productions and the more popular plays that most off-campus theater companies perform provides students with a diverse variety of shows to excel in.
"It definitely does help," Weinberg said. "For example, with 'A Funny Thing Happened on the Way to the Forum,' not a lot of people knew about it, but it was great to be exposed to a different style of theater."
On the other hand, students who do not actually do theater at all are involved in out-of-school productions as well.
"I saw one of my friend's shows and loved it," sophomore Giovanna Eichner said. "Ever since then I've seen musicals and plays inside and out of school. It's always fun to go out with your friends and support the person in the show, too."
Theater is a universal medium that can bring people together, despite their differences. The number of students that know about these theater companies shows just how much significance theater holds in the lives of CHS students.
"Theater bonds CHS together because it creates an artistic value to CHS that would not be there if theater was not involved," Miller said.