Observer Applauds CHS Theatre Tech Crew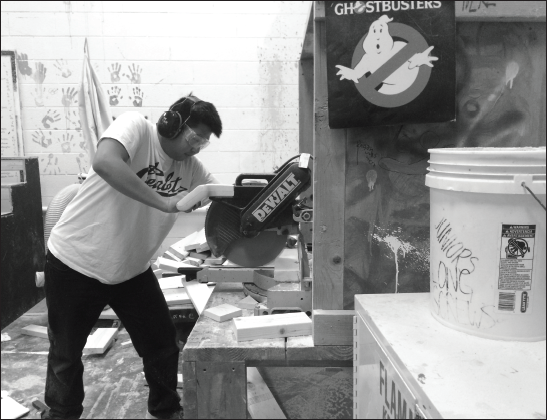 Although they may not literally have a spotlight shining on them, it is time the behind-the-scenes contributors of CHS theater productions are given some props.
"The biggest misconception about theater is that not a lot of work goes into a production from either side—actors or tech," stage manager sophomore Junghyeon Lee said. "It takes a pretty hefty chunk out of a day and it takes a lot out of you."
Like any other extra-curricular activity at CHS, working on theater productions requires dedication and long hours after school.
Daily rehearsals typically end between 3:30 and 4:45 p.m., but during "tech week," the week leading up to the show, students stay even later.
"We do a lot of hard work and we end up staying at school till 10 or 11 p.m. some nights," audio technician senior Maxie Wiener said.
Students' passion for theater inspires them to learn the skills necessary to actually carry out the show.
"I became the involved in tech as a freshman," Wiener said. "[Though] I had no knowledge of anything sound-related, I had an upper classman teach me how to use the sound board. I learned the most once I actually started to work with the board on shows."
Senior Izzy Rayner grew up watching musicals, but she has learned the most about live theater and the process of making a show "go from script to stage" through her role as the student tech director.
Each individual plays a crucial role in ensuring the productions are successful.
"I love being able to do a little bit of everything," Rayner said. "I get to work on construction, sound, lights and managing."
Rayner generally arrives at school two hours prior to showtime. She makes sure everything is in place, then heads to the "tech green room," where the crew gets pumped up before the curtain rises.
The CHS productions are student-run with guidance by official director, film and yearbook adviser Naomi Ratz.
"My role is to basically be the bridge between Mrs. Ratz and the tech crew," Lee said. "I study the show far in advance of opening night and decide what props are needed [in collaboration] with Mrs. Ratz."
During the live performance, Lee directs the spotlights, plays sound effects and makes sure there are no "potholes" in the show.
"I'm there to just make sure everyone is where they need to be and have what they need to have," Lee said.
According to senior costume designer Libby Spriggs, the first thing she does is familiarize herself with the production. She maps out the looks for every character, getting inspiration from the time period and internet. Then, she decides whether to make, rent, or thrift shop items she needs once she has the actors' measurements.
"My favorite part of costumes is that it's my personal outlet that mixes fashion design, a passion of mine, and leadership," Spriggs said.
During the shows, Spriggs does the cast's hair and makeup, keeps the dressing rooms organized and helps with quick changes between scenes.
Another aspect of putting on a successful show is ensuring the audience can hear what is happening on stage.
According to Wiener, she is in charge of all the microphones and setting up the band if there is one. When she is not working on controlling the sound, Wiener also helps to build sets.
Currently the CHS theater department is working on "A Funny Thing Happened on the Way to the Forum," a musical features a dysfunctional Roman family and the shenanigans they bring with them.
According to Ratz, is it a farcical, comedy of errors taking place in ancient Rome about a slave trying to buy his freedom.
"People think that theater is only for one type of person," Rayner said. "However, there are so many different types of shows nowadays, from 'Rock of Ages' to 'Hamilton' to 'Wicked' to 'The Lion King,' that everyone can find something they like when they go to the theater."
Any student can get involved in theater productions at CHS. If not, they can still attend one. "A Funny Thing Happened on the Way to the Forum" will be performed on November 4, 5, 11, and 12 at 7:00 p.m. and November 6 at 2:00 p.m.
"Students should come see the show to support their fellow 90 students who have poured many hours into making this a fantastic performance," Ratz said. "90 students have worked collaboratively to create this beautiful, funny, entertaining piece of art, and we should all celebrate that and support that. Plus, the show is really entertaining."
As you watch "A Funny Thing Happened on the Way to the Forum," think about the crew hammering down the set, directing the lighting and sound and making final alterations to the costumes. There is more to CHS productions than what shines in the spotlight.