College Roomate Search Similar to Speed Dating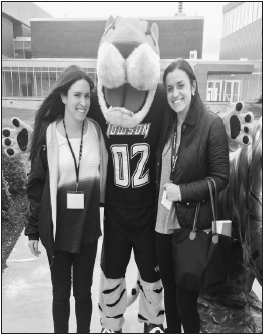 With today's ever-increasing advancements in technology, the college roommate search has been transformed from a simple random selection process, in which students feel indifferent about the roommate they are assigned, to a complex social media outlet which allows students to match themselves with the perfect roommate.
For many high school seniors across the country who plan on attending college next year, the search for the perfect roommate can be explored in numerous ways, ranging from Facebook college groups to online school compatability tests or asking friends for connections with someone attending the same university.
"The roommate search has become more personal because you are able pick and choose which qualities you want in a roommate," senior Janna Rudolph said. "In the past, with random assignment, you weren't able to choose what kind of person you wanted to live with; you [and your roommate] were just thrown together."
Although Rudolph has not begun searching for a roommate yet, she will keep in mind the many resources like Facebook that have captured the attention of incoming freshmen in need of a roommate.
Social media allows students to post descriptions of themselves in hopes of getting the attention of a potential roommate. In each of these Class of 2020 Facebook groups, students have adopted a multitude of ways of presenting themselves to their peers, whether it be through the use of humor or pure details about one's personality and interests.
"I actually met a girl in the University of Maryland [Facebook] group who I had a lot in common with, so we texted a little bit and we are planning to meet up or at least video chat to solidify our rooming plans," said senior and future Terp Lucy Bedewi.
An alternate resource for roommate-searching at UMD is the app Terp Findr, which can be purchased in the iTunes store and allows incoming UMD freshmen an opportunity to search for a roommate in a speed-dating type manner.
In my own testing of Terp Findr, the app requested that each user create a profile that includes a name, description, list of interests, the user's gender and a picture. Once users accomplish this, they are allowed to scroll through the numerous profiles of other users and decide whether they want to swipe right, meaning they are interested in the person's profile, or swipe left, meaning they want to skip that roommate option. If two people swipe right on each other and have a "match," they are then able to start a conversation.
UMD students are not the only ones with this online compatibility option, but all students going to college next year can access sites such as roomsurf.com, which provide roommate compatibility tests.
According to roomsurf.com, the website is designed to help students from universities across the nation find a roommate from their respective college with similar interests. Users are required to provide and update correct and true information about themselves, whether the user chooses to provide it themselves, or through their Facebook page.
"I have gone through Facebook groups and messaged a few people and used a similarities quiz on roomsurf.com to match me with other people who are going to Penn State," senior Zach Ruvo said.
If students are not interested in using social media or a matching website, they can always use the friend-of-a-friend approach.
"My best friend's roommate's camp friend was going to Towson [too]," senior Maggie Nardi said. "She chatted me on Facebook and then we became good friends and talk everyday."
While some students are okay with being randomly assigned a roommate, others go the extra mile to search for their roommate.
It should be noted that these previously stated methods of looking for a roommate only deal with students who either do not want to "go in blind" to a university, meaning they do not want a random roommate, or do not want to room with someone they already know.
"I personally wouldn't mind having a random roommate; I don't have much of a problem meeting new people, or think that I would hate having a random roommate," senior Paul Mengucci said. "That being said, I decided to room with somebody I already know, but it wouldn't have mattered if I ended up with a random roommate."
At some schools, students are limited in their roommate requests.
Senior Meredith Srour, who plans on attending Dartmouth College next year, does not have the chance to use these roommate matching resources.
According to Srour, the roommate process is random and each student responds to a questionnaire which factors in personal qualities and behavioral attributes when matching roommates together.
"I've heard that searching for a roommate can be a stressful process, which is part of the reason why I am happy with my school's policy," Srour said. "I have also heard that random assignments often work out, so I have no complaints."
It is safe to say that students are moving away from the random roommate selection process, and opening themselves up to the many new resources when looking for a roommate.
"I would not do a random roommate because it scares me to not have any idea who I would be living with," Ruvo said.
According to senior and future UMD student Giancarlo Estrada, he is against the random roommate assignment process because there are too many risks and possibilities that he will not like his roommate, and it might hinder his social life in his first year of college.
"[The roommate search] is pretty hard considering I'm in a specific program at UMD where I can only room with certain people," Estrada said.
Overall, the college roommate search has evolved from an underappreciated, optional thing to do in college to a task that is strongly encouraged and at times, difficult to navigate.
"The search can be tough," Mengucci said. "Unless you personally know your roommate, it's hard to know exactly what they're like until you really meet them.