The Legend starts now; Cabin John Middle School begins publication of newspaper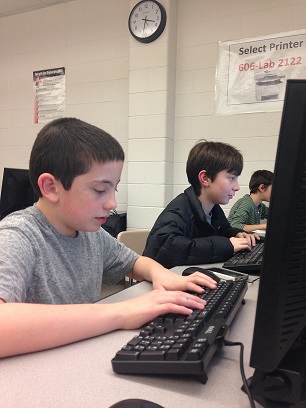 The legend lives on as they say, or perhaps it is just beginning.
Cabin John Middle School recently began the Cougar Legend, the school's first official newspaper. Founders of the club, Science teacher Mrs. Kumar and Spanish teacher Mrs. Alvarez, created the club in order to allow the kids to express themselves through writing.
"We thought it would be a great idea for kids to put on their high school resumes and college transcripts and also influence them to do the newspaper in high school," Kumar said.
Although the Legend has been working for a little over a month on its first edition, the club must manage to put together a newspaper with only a few students to begin with until the club creates public awareness and garners attention.
"My science teacher asked me if I wanted to join and I said okay," 7th grade Editor in Chief Lee Lemar said. "It probably takes me about two weeks to write an article because I only have newspaper club once a week and I only write at home a few hours a week."
Members of the Legend, such as Ian Silver, heard about the club from classmates or friends. Silver enjoys writing for his newspaper and writing in general.
According to Silver, he likes the way that journalism "makes you express your feelings." He also agrees that journalism is a good way for students to get the attention of future colleges and improve on their writing skills.
Writer Allison Jacobs learned how to structure a story, and how important the details of composing a story are.
"There is so much more information that you don't know about until you explore I guess," Jacobs said. "Once I type the first sentence, then I can write a whole paragraph, but I have to find that perfect sentence before actually starting."
The members of the newspaper club write about all different kinds of topics. As a writer with an empty piece of paper and a brain filled with ideas, these students can write about anything they desire.
"Science, anything science related," Lemar said. "Preferably quantum physics, but I don't think that's going to happen any time soon, (so) I'm writing one about hydroponics now."
According to Jacobs, she likes writing about other people's thoughts as a way for her to express her opinion in writing.
As a student trying to cope with stress, Oceane Kenfack participates in the club not only for the candy, but also to tell the public about how stress affects students like herself.
"I think that we pressure ourselves a lot," Kenfack said. "Some teachers pressure us because they expect so much from us because of the new curriculum, but were not adapted to it."
The Cougar Legend works on every Wednesday from 3:00 PM-4:00 PM at Cabin John Middle School. The opening of the club has allowed so many new opportunities to be available to students that were not available before.
"Journalism is important because it keeps everyone updated with what's going on in the world," Kumar said. "It lets young kids get their feelings and opinions out in a healthy and productive way."