A look into the MCPS hiring and firing process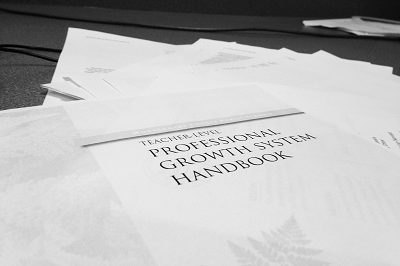 Teachers are an everyday part of students' lives, they come in many forms and some are more loved than others.  Students may wonder how those less loved teachers obtain their jobs.
This month, the Observer went behind-the-scenes to learn more about CHS' process of hiring and firing teachers, a process which begins at the county level.
"In general, the county allots us a specific amount of staffing," assistant principal John Taylor said.  "We look at the teachers we already have on staff and determine if we need to hire, or if somebody's leaving, if they need to be replaced or if we can replace them."
Most teacher hirings occur at several set times each year.  According to Taylor, these include an annual job fair that MCPS holds for teachers looking to move within the county, and the end of every school year when MCPS goes through all of their staff.
"They might have 100 Spanish teachers and they'll move them around so that they fill all of the slots at the different schools," Taylor said.  "If we have an opening and they have an extra teacher at another school, that teacher will come to us."
Once that occurs, CHS is allowed to hire staff on their own to fill any remaining openings.
According to Taylor, Human Resources keeps an electronic database, from which Dr. Benz chooses candidates to interview from based on who has met the basic requirements.
"Usually, the department head, the administrator in charge of that department, and if we can, a couple of teachers from that department, will sit in an interview panel," Taylor said.  "They'll interview and score each candidate.  Based on the scores, we'll put forward a name."
Firing a teacher, on the other hand, is a separate process, which is not as simple as walking into a classroom and saying "You're fired," to a teacher who is underperforming.  This is mainly because teachers are unionized.
According to social studies resource teacher Rodney Van Tassell, teachers receive a formal evaluation based upon six standards during each of their first three years of work in MCPS.
The six standards, endorsed by the Montgomery County Board of Education, deal with a teacher's commitment to students and their learning, knowledge of content and ability to deliver it to students, effectiveness in creating a positive learning environment, method of assessing students, commitment to their professional development, and professionalism.
According to Van Tassell, if teachers receive favorable reviews in each of their first three years, they obtain tenure.
"After this, they are formally evaluated every three or five years depending on their years of service," Van Tassell said.  "If teachers receive a 'below standard' evaluation by their principal, they are placed in the Peer Assistance and Review (PAR) program."
According to Taylor, PAR is a performance review panel of MCPS teachers and leaders that inspects each case to decide whether a teacher should be given additional support or be removed from their job.
According to the MCPS Teacher-Level Professional Growth System Handbook, PAR is a "mechanism for maintaining system-wide quality control and ensuring that all MCPS teachers responsible for teaching students meet MCPS standards of performance."
According to Van Tassell, PAR is meant to help under performing teachers improve rather than to fire them.
"MCPS has consistently sent the message that all students can achieve on a high level if provided with the proper supports," Van Tassell said.  "PAR is no different.  MCPS has a long track record of training under performing teachers to become expert educators."
This process is uniform and does not differ between CHS departments, nor between schools within the county.
"All professional teachers within MCPS are held to the same six standards," Van Tassell said.
CHS students generally agree that teachers are held to strict enough standards when it comes to whether or not they keep their jobs.
"I do know that [MCPS] considers student opinions and their performance in class," senior Brenda Mokua said.  "I would assume that if the students are complaining about the teaching style and performing poorly, then MCPS would assess the situation strictly."