'Blast' returns to the past with 'American Bandstand'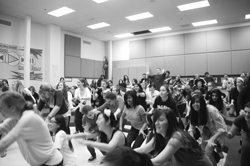 What we now know as Blast, CHS's epic annual musical review, was originally designed to be a blast from the past—a show comprised of and dedicated to music from previous decades. Although in recent years it has veered off this path with long sets of contemporary music, it is returning to its roots this year with its theme "American Bandstand."
American Bandstand was the longest-running musical variety show on television and started nearly a half century ago. Carlos Barillo, CHS's choral teacher and Blast's director of 14 years, decided on this year's theme after the recent death of Dick Clark, American Bandstand's founder and host.
"When Dick Clark passed away last April, I felt compelled to pay tribute to him," Barillo said. "American Bandstand nurtured my appreciation of different genres, because his program crossed racial boundaries. American Bandstand was a television show that celebrated the music of the time. We got to see visually who the singer was even if we could not afford to go to concerts."
The theme has been received with mixed reviews from cast members. While some are having trouble identifying with the older songs, others believe that the show is better without the addition of Top 40 tunes.
Senior Kevin Shin, for example, believes that while the show will please an older audience, the cast is having a difficult time relating to the songs because they are so unfamiliar.
"I think it's going to be really cool for older people to watch, like grandparents, so that they can go back to their memories and such," Shin said. "But when it comes to young people, I don't know. I like some of the songs because they're songs we haven't heard before, but I don't know if we're that excited about it."
Other students, however, are more excited. Senior Shannon Sweeney believes that eliminating contemporary music was a great decision because cast members in recent years fought over who would get to sing the most popular songs. This year, she said, the cast is free to focus on the quality of the overall performance instead.
"The more modern songs we have in the show, the more excited Blast members are to get those songs, and the more upset they get if they don't get to sing those songs," Sweeney said. "By taking them out, everyone's kind of evened out, and everyone has the same kind of music. It's gotten rid of the conflict. The quality of the show is a lot better."
Blast's appeal to CHS students has always been more than the songs. Students also like to see their friends on stage.
According to Erik Rigaux, rooting for one's peers is enough fun to draw a CHS crowd.
Last year, Blast changed from a spring to a winter production. Not everyone was pleased, especially seniors who were forced to juggle the college application process and rehearsals. This year, however, the performers have decided to accept the production's new schedule.
"Last year was the first time we'd done it in the winter, so last year more of our energy was focused on being irritated at the fact that it was in the wintertime, but this year, we're all resigned to the fact that it's in the winter, so we're more focused on just making it a great show," Rigaux said. "The attitude is better."
The show has also undergone a change in organization. Barillo decided to step back and allow the cast more creative control. In previous years, he was involved in every aspect of the performance.
"I'm here just to guide them to success," Barillo said. "I allowed them to create, and  I mold it into a show piece."
According to company manager Maddie Krueger, this new hands-off policy has given her and the other leaders more influence and responsibility.
"The fact that the parents and Barillo are not as involved makes my job and the other leaders' jobs very important," Krueger said. "I'm his passageway to them, so if things need to get communicated, I tell them. If things need to get scheduled, I'm in charge of scheduling."
Blast is not the only performing arts organization experiencing major changes. Both Showstoppers and Simply Irresistible, Barillo's show choirs, have decided to increase the number of after-school rehearsals. By request of the students themselves, they now meet once a week rather than roughly once a month. As a result, Blast has one less day a week to rehearse.
According to Krueger, three months is already a relatively short amount of time to put together a production as massive and time-consuming as Blast. This new scheduling conflict has further intensified this time crunch. But the performers haven't let it slow them down.
"I think that, with the time that's been given, these performers are doing a fantastic job," Krueger said. "It's not a lot of time, and it's a lot of stuff that they have to remember, and they have to get done, but they're doing it all."
All the while, tech has been busy pulling together the lighting, sound system and set.
According to tech intern senior Evan Cook, tech has undergone two major changes: increased attention to safety regulations and involvement in set design.
This year, because tech interns seniors Cook, Emily Potter, Duncan Seguin and Steven Miller have all expressed an interest in a future in set design, tech advisor Scott Selman allowed them to essentially design American Bandstand.
"Tech started actively working on Nov. 7, but the student interns have been designing the set since the beginning of September," Seguin said.
Additionally, since the April 2012 backstage fire, all of the students involved in tech have been sure to pay more attention to safety regulations.
According to Seguin, this new adherence to strict policies has made their work slower, but is worth it.
Overall, this year's Blast promises to be as extremely well-done and powerful as former years, if not even more so. Parents, grandparents, teachers and students alike should all attend.
"It's going to be a good year of Blast," Sweeney said. "We've put a lot of time and effort into it—everyone here loves what we're doing. We're working to please the audience so we want an audience to please. It's going to be a very high-quality show.