Constant repairs on canal disrupt visitors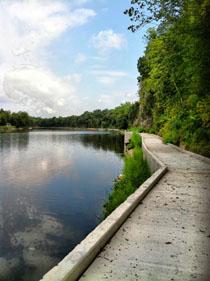 The C&O Canal provides a respite from suburbia's relentless traffic and congestion. It is the perfect place to relax and appreciate the beauty of nature. But most people don't realize how hard government officials and volunteers have to work to maintain this famous landmark.
Construction of the canal—officially called the Chesapeake and Ohio Canal—began on July 4, 1828, and was completed October 10, 1850. It's something of an engineering miracle that it's still intact and useable today, 162 years later. Much to the annoyance of the huge number of people who walk along its towpath each year, it's constantly being repaired.
"We often will undergo restoration and other repair projects in the park," said John Novel, National Park Service's, chief of interpretation, education and partnerships. "Because there's no other way to do it, we'll have to temporarily inconvenience visitors by creating a detour, mostly for safety purposes. That's just a byproduct of doing some of these projects."
Many CHS canal-frequenters have noticed that the canal has been drained of water in several parts located next to MacArthur Boulevard, especially around the popular restaurant, Old Angler's Inn.
"I love taking walks on the canal with my dad, but for the past couple of months that spot near Old Angler's Inn has been totally dry, and I've been confused as to why," junior Hana Elborai said.
According to canaltrust.org, a website from the C&O Canal Trust dedicated to posting information about the canal, there was a breach in the towpath near Old Angler's Inn Sept. 6, 2008. Heavy downpours and runoff from surrounding hillsides caused the gap that was 125 feet across.
This past summer, in order for the contractor to complete the necessary repairs, long stretches of the canal near the breach were drained. The change was unsightly, but the National Park Service (NPS), which oversees the canal, said it had no choice.
According to the National Park Service website, nps.org, the drainage was initiated in July 2012, after being deemed necessary to the restoration by the project's contractor.
The breach also damaged a historic stone wall which, after four years of constant repair, was finally completely fixed in July.
Not only does the construction affect the visual environment, but it also prevents CHS students and teachers from walking without interruption from the District of Columbia border all the way to Great Falls.
Parking can also be difficult for canal visitors.
According to canaltrust.org, construction near the Old Angler's Inn lot requires periodic closures of parking areas and prohibits vehicular traffic from 5 a.m.-5 p.m. in the upper and lower parking lots. The closest available parking lots are at Carderock, which is two miles east of Old Angler's Inn, and Great Falls, which is 2.2 miles west.
Luckily, construction by Angler's Inn is estimated to be completed this fall.
Further down the canal, in Washington County, MD, a 13-mile stillwater lake that intercepts the canal, nicknamed Big Slackwater, flooded the towpath for several years. Restoration efforts began in 2010 and are scheduled to be completed by the end of this year. This project was funded by National Park Service and the Maryland Department of Transportation's Transportation Enhancement Program.
The constant reconstruction of the canal has cost millions of dollars and years of hard work, but no matter what, it remains a landmark and source of pride for people from Virginia, Maryland and Washington DC. It spans over 184 beautiful miles, from Georgetown to Cumberland, Maryland.
"I love going to the canal so much that a couple of repairs going on don't really affect my opinion of it at all," sophomore Maddie Beller said.
If a student is interested in doing volunteer work for the canal, they should contact Emily Hewitt at [email protected]. Students under 18 need permission from their parents and an adult accompanying them, but there are many opportunities for them to enjoy.