Another hit to Marvels' catalog: "Moon Knight"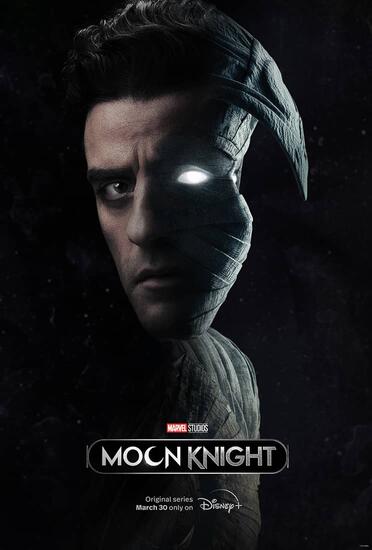 "Moon Knight" is Marvel Studios' latest addition to their ever-growing catalog of Disney+ exclusive series and shows. Starring Oscar Isaac as Marc Spector, and Ethan Hawke as Arthur Harrow, the six episode mini-series premiered on March 30, 2022. 
"Moon Knight" is one of the more obscure Marvel characters to be featured in live-action. First appearing in a 1975 comic issue, Moon Knight was originally introduced as Marc Spector. His background is that he was the son of a rabbi, once served as a marine, and eventually became a mercenary. 
"Moon Knight" tells the story of Steven Grant (Oscar Isaac), a low level British gift shop worker, living a simple life alone in London near the museum where he works. While Steven would much rather spend his time guiding people through the museum's many exhibits about ancient Egypt, he often finds himself stuck working away in the gift shop's storeroom due to his continuous unreliability in the workplace. As much as Steven tries to keep his life in control, he frequently loses consciousness for significant chunks of time with no recollection about what happens whenever he slips into one of his mysterious sleep-like states.
"Moon Knight" briefly establishes that his struggles with sleeping disorders aren't new. However something has changed, and that is Steven's sense that he's constantly being stalked by Khonshu, the Egyptian moon deity whose nightmarish bird/mummy-esque appearance constantly surrounds Steven.
Along with this, Steven also suffers from dissociative identity disorder and must work with Marc Spector – one of Stevens identities who happens to be a mercenary and has made a deal with Khonshu. Together the two separate personalities must work together within Steven's body. Doing so they must do the bidding of Khonshu as they act as his avatar. 
From a story standpoint "Moon Knight" breathes new life into the Marvel Studios Disney+exclusive shows. Especially after "Hawkeye" and "Falcon and the Winter Soldier" which were extremely forgettable. The inclusion of Egyptian gods and myths in the MCU is something that has never been seen before. 
Along with this, Oscar Isaac gives one of the best performances of his career. His ability to be extremely expressive when shifting between the two personalities is phenomenal and something very few actors are capable of. 
From a visual standpoint it is definitely much more of a darker show, heavily delving into the more horror aspects from the "Moon Knight" comics. Along with this use of mirrors throughout the show to represent the different personalities within Steven is incredibly well executed. 
Overall the show is definitely worth watching, and while it may be somewhat chaotic at times it makes up for it with a deep comprehensive story. With episodes around 50 minutes binge from the couch to destress from school.