WCHS drama puts on a virtual production of "Clue"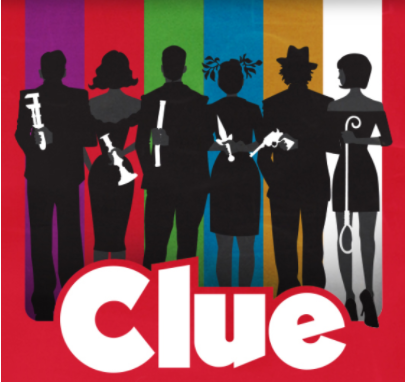 Ever wonder what it would be like to solve a murder mystery? Do you have a fascination with crime or detective work? If your answers to these questions are "yes" then WCHS' upcoming production of  "Clue" is definitely a must see. Based on the beloved board game that many grew up with, "Clue" will leave the audience on the edge of their seats wondering which of the six suspects is a murderer. 
The play's premise revolves around a dinner party that takes place at a lavish mansion. Each of the guests are being blackmailed, all while the people around them are mysteriously dropping dead, including the host of the party. Quickly, the six guests become suspects with three questions coming into play: Who did it? Where did it take place? And with what weapon?
"'Clue is a campy, comedic murder mystery," Thalia Eyles, the student producer who is playing Miss Scarlet, said. "It's a classic whodunit story."
With this year's virtual school format, the drama department has had to adapt in order to put on this production safely. The play will be entirely virtual and even had recent auditions that took place through Zoom Video Communications. The usual in-person audition process was not an option, so the drama club organized auditions on Google Classroom.
"For auditions this year, we had people sign up for a time slot from the drama club Google Classroom," Eyles said. "They would then join a Zoom based on that time slot and we would assign them parts to read from a set of sides (basically an audition excerpt from the show). Everyone had some time in a breakout room with their group to practice before being evaluated."
Aside from the six murder suspects, there are many other roles that were assigned following auditions. Senior Olivia Meshanko was casted as The Cook, and definitely will be someone who keeps the audience laughing throughout the course of the show. 
"I got The Cook which is a super funny role," Meshanko said. "I'm excited for the comedic timing of the role."
With rehearsals in full swing, the cast members are working hard to ensure the performance is spectacular. Despite some of the challenges that the virtual setting is providing, such as having to find new ways to block each scene, everyone is excited to be able to have this opportunity for a new play format.
"It's gonna be more like a movie this year, which should be pretty cool," Meshanko said. "I'm excited to see how it all turns out."
Another plus of a virtual school play is that students will be able to watch from any location. The cast will be filming "Clue" on Zoom, and it will be broadcasted for the rest of WCHS to see. 
"Clue" is the perfect combination of mystery and comedy, and there are many unique scenes that will allow the actors to get creative to entertain the audience. It will be exciting to watch these noteworthy aspects of the play take place, especially in its movie-like format.
"There's a scene near the end that's super fast paced and intricate that I think could be really good with some creativity," Eyles said. "I also think acting on camera is a very different experience from acting on stage so it'll be a good chance to practice a different skill."
"Clue" will be extremely accessible to students to watch this year from their own home. It is the perfect escape from the stress of online school and COVID-19 and will hopefully bring some normalcy back to our lives. Students should definitely tune in and support the drama club's hard work to give us an amazing production on a virtual platform!
"I think now is a really important time to support the arts and a time where it's easier than ever to do that from the comfort of your own home," Eyles said. "It's also hard to exaggerate how much good art can do for individuals, so if you can, support productions like 'Clue' as it is a great thing for everyone."