Netflix rom-com excites viewers with a sequel: P.S. you will love it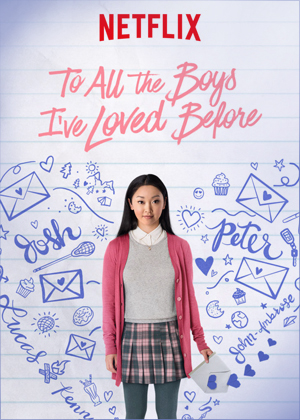 The hit romance that appeared on Netflix in 2018, "To All the Boys I Loved Before," stole the hearts of its audience and seemed to have had the most perfect and satisfying ending. The movie wrapped up with Lara Jean, played by Lana Condor, finally revealing her love for Peter Kavinsky, played by Noah Centineo. The two individuals who seemed to have nothing in common managed to defy all odds, as they shared a bond together that fans fell in love with. After such a successful and fulfilling ending, was the creation of a sequel really necessary for fans to see? 
The answer to this question is yes! On Feb. 12,  2020, the sequel "To All the Boys: P.S. I Still Love You," debuted on Netflix to the excitement of the devoted fans of Lara and Peter's relationship. 
The movie started off by giving a glimpse into the couple's relationship and their day-to-day life, showing Lara and Peter going on a dinner date and then going to a fair. These scenes made the audience fall in love with the two's adorable relationship even more.  However, this movie would not be a romantic comedy if there was not a little bit of controversy to stir the pot and keep things interesting. 
One of Lara's previous crushes who was briefly mentioned in the first film, John Ambrose, played by Jordan Fisher, returned to Lara's town and was determined to reconnect with her. Even after being apart for many years, Lara and John's bond was still strong, which left Lara conflicted over whether John would be a better fit for her over Peter whom she had so many differences with.
The two suitors split the fandom of "To All the Boys I Loved Before" into two sides, team Peter and team John. This rivalry between the two men kept the movie interesting as viewers could root for their favorite pick to end up with Lara. 
In addition to this exciting drama that took place during the movie, "To All the Boys: P.S. I Still Love You" had many comedic elements that kept their audience laughing throughout the course of the film. 
During the scene where Lara and her sister Kitty, played by Anna Cathcart, went to visit their family, Lara's cousin was surprised to hear that Lara had a boyfriend because she seemed like "a no-dating-until-college-type girl." Lara's hilarious little sister was able to shut down their cousin by summarizing Peter and Lara's entire complicated love story in the span of approximately 10 seconds. If you watched the first movie you know that this must have been a mouthful for Kitty to say in 10 seconds. The cousin then responded by saying, "cute story; sounds a little pg-13, but cute." 
The film was also filled with instances of heart warming friendships and relationships. For example, Lara and her ex-best friend from her childhood, Gen, played by Emilija Baranca, were able to rekindle their friendship and put their differences aside as they realized that fighting was not worth it because of how much they cared for one another. This shows the importance of friendship and being able to have forgiveness for those you love.
There was also a touching storyline between Lara and a woman who lived at the nursing home Lara volunteered at. Stormy, played by Holland Taylor, acted as a mentor for Lara throughout all of her struggles and built up Lara's confidence when she was feeling down. Their relationship was inspiring to the audience and showed the importance of having people in your life that you can lean on and to ask for guidance during hard times. 
"To All the Boys: P.S. I Still Love You" did a wonderful job of including all the elements a good rom-com needs all while teaching important life lessons shown through friendship and other types of relationships. The ending was a perfect way to conclude Lara and Peter's love story that left the audience feeling moved by their beautiful connection.