Marie Kondo innovates cleaning techniques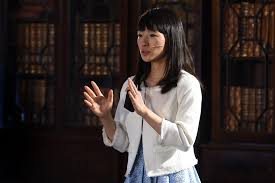 By Kathy Hu, Advertising/Subscriptions Manager
March 11, 2019
Marie Kondo is seen by many as the 'Queen of Organization,' after the popularity of her book "The Life-Changing Magic of Tidying Up" blew up and she was awarded her own Netflix series "Tidying Up with Marie Kondo."
The series shows how she declutters and organizes peoples' homes. She has had a devoted Japanese fan base for a while now, but Americans are also beginning to discover her useful organization tips.
Her method of organization is called the 'KonMari Method,' and she believes that the key organization is surrounding yourself with only things that "spark joy" in your life and discarding anything that doesn't bring joy into your life.
Her organization method always begins with taking everything out before deciding what to keep and what not to keep. The basis of her closet decluttering method is that you must touch everything and only keep it if the item brings you joy. She also insists that you must thank all items for their service before getting rid of them.
Additionally, Kondo suggests that people organize by category, not by what room the items are in. For example, she always recommends beginning with clothes, then moving onto books, papers, miscellaneous items, and saving mementos for last. Although it is the most difficult part of decluttering to most people, one of her biggest tips is trying to not let nostalgia interfere with what you need to get rid of.
Kondo always says to consider the feelings of your belongings, as if they were people. If your clothes look cramped and uncomfortable, it is time to declutter. She also has a signature folding method that helps maximize space by having your clothes folded so they stand up.
Her audience continues to grow as she has been featured on shows like USA Today, Jimmy Kimmel Live!, and Ellen. Celebrities, including Jennifer Garner and Stephen Colbert
have also taken after Marie Kondo's ways, decluttering their homes and posting it to social media.
Many people remark that her book and her organization methods have not only changed their homes, but have changed their lives completely. Kondo has said that nothing makes her happier than when people say her organizational tips helped them change their lives around.
Loyal fans of Kondo have been taking her organizational methods a step further, applying the tips in her book to not only their home, but to their technological devices and spending habits as well.
For the process to be successful, one must be totally committed to reaching that goal. Kondo's claim is that if you devote yourself to decluttering with the KonMari method, you will only have to declutter your home once and never again.
Although some people on the internet disagree with her seemingly minimalistic ways, Marie Kondo's mission to spark joy in the world through tidying has already had great success throughout social media.