WCHS Jazz Ensemble hosts annual concert for good cause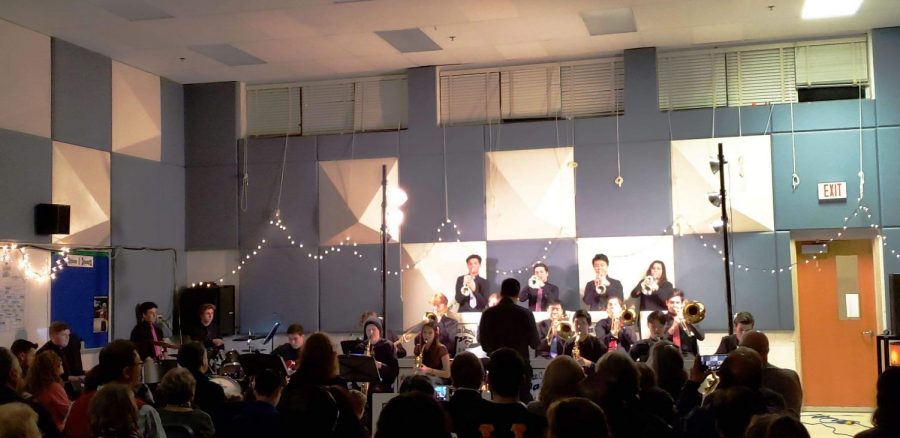 By Benjamin Pham, Advertising/Subscriptions Manager
January 8, 2019
On Friday Dec. 14, The WCHS Jazz Ensemble hosted their annual Jazz Coffeehouse in the band room. To accompany the music, they provided snacks and refreshments outside. The jazz performance was broken up into two sets, each consisting of four songs, with a brief intermission in between.
Senior Tim Duckett praises the Jazz Ensemble for their performance that was conducted by WCHS Instrumental Music and AP Music Theory teacher, Ariel Allal.
"I enjoy swing jazz music, which is the type of music that the Jazz Ensemble plays, because, everyone in the Ensemble has a part," Duckett said. "Even though the jazz music jumps around to each performer, the music comes together perfectly in the end, and a few people do stand out in the group."
Senior Marcel Penzes, who plays trombone in the ensemble, is delighted with the attendance of this year's Coffeehouse. In addition, this year's was unique because the Jazz Ensemble created a partnership with the National Foundation for Cancer Research, which was the primary reason why the Jazz Ensemble heavily publicized this event. The Ensemble sent all event proceeds to the foundation to support research.
"This year's coffee house had the largest attendance we've ever had in my four years at Churchill," Penzes said. "We are really pleased with the turnout, and even more pleased with the amount of donations that were given from the parents and students of the Churchill community."
Ensemble members enjoyed the opportunity to be able to perform for an audience all the while supporting a good cause.
"I'm really glad that we had the opportunity to do something good, while playing the music that we love and enjoy, surrounded by our friends and family members who support us," Penzes said.