Stapleton's third album supplies raw sound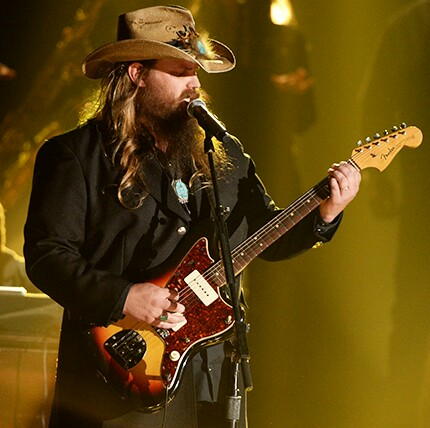 Chris Stapleton's third album "From A Room: Volume 2," released Dec. 1, sticks to the elements that made its predecessor, "From A Room: Volume 1," the best-selling country album of 2017. The result is an album that nearly equals "Volume 1" in charm and is sure to achieve similar success.
Over the past three years, perhaps no country artist's popularity has increased as much as Stapleton's has. A former songwriter for artists such as Adele and George Strait, Stapleton went "solo" in 2015 and has since released three albums with his own band, led by his powerhouse vocals and versatile guitar.
Throughout "Volume 2," Stapleton confidently echoes his trademarked sound that is primarily country, yet clearly infused with rock and blues. Although his songs have a sort of antique quality, it's difficult to point to any specific country artist from the past that harnessed this type of sound consistently.
Many fans have praised the authentic and soulful nature of Stapleton, who neglects the bells and whistles that many mainstream country artists today use to attract new listeners. Those fans will be thrilled to know that "From A Room: Volume 2" is just as minimalistically produced as its predecessor. The album lacks the multi-artist cameos that are becoming common on mainstream country radio today. Stapleton makes sure that fans don't miss those bells and whistles, as his new album creates a sense of intimacy with a hands-off production style evident from the very first track, "Millionaire."
"Millionaire" combines a twangy and upbeat guitar background with the soulful harmonies of Chris Stapleton and his wife, Morgane Stapleton. Perhaps the most mainstream-sounding track on the album, "Millionaire" has the subtle charm to be performed anywhere from a small restaurant to a stadium.
"Hard Livin'" features a rock beat combined with a grungy blues guitar, setting up Stapleton to bring home a memorable outlaw rock track that is one of the best songs on the album. This song features some of the only noticeable actions of producer Dave Cobb, who adds effects to Stapleton's guitar to clinch this track's climactic bridge.
As quickly as Stapleton unleashed his inner outlaw, he seamlessly transitions into the traditional prime country-sounding "Scarecrow in the Garden." Yet, just as your ears may start to glaze over as this easy listen progresses, the final verse hits. Stapleton turns down the volume to emphasize the lyrics, telling a haunting story of a struggling farmer with a "bible in the left hand, pistol in the right."
The 'standout' song of this album could be any one of the nine tracks, depending completely on the listener. This versatility illustrates the musical genius and appeal of Stapleton. It is very rare for an artist to possess equally awe-inspiring prowess in so many different iterations of country sound.
Personally, I consider Stapleton to be at his best when working at one of his major musical 'extremes,' whether he's blasting edgy outlaw rock tunes (like "Hard Livin'") or slowing down the tempo with transcendent ballads.
On this new album, his best ballads include "Nobody's Lonely Tonight" and "A Simple Song." While there's no denying that Stapleton's ability to 'belt it out' is one-in-a-million, these ballads fell flat in comparison to those found on his previous two albums such as "Either Way," and "Broken Halos." These songs set a virtually insurmountable standard in my mind and in the minds of many fans.
This by no means suggests that the ballads on "Volume 2" are not enjoyable. Stapleton may not have the tall, muscular looks or fresh-faced youth of many country stars, but his ability to convey emotional lyrics is unmatched in the industry today.
However, my favorite song on this particular album is "Tryin' to Untangle my Mind." The combination of electric and acoustic guitar on this song mix with complex bluesy flare. The harmonies of Stapleton and his wife Morgane are both catchy and soulful, creating an end product that has the qualities of a mainstream country radio hit without sacrificing any of Stapleton's unique authenticity.
Within a listening time of 32 minutes that passes in a breeze, Stapleton packs so many emotionally high and low moments of struggle, love, and heartbreak. Combining these emotions with the fact that this is Stapleton's third album release in as many years, I have no complaints about the album's short length.
In an age where so many country artists change and adapt to gain new fans and publicity, Chris Stapleton keeps chugging along with the pure sound that put him on the map. As long as Stapleton continues to churn out albums that showcase his unique and multifaceted talent, his fans should have no complaints with more of the same.