Does Pride and Prejudice and Zombies serve justice to the novel?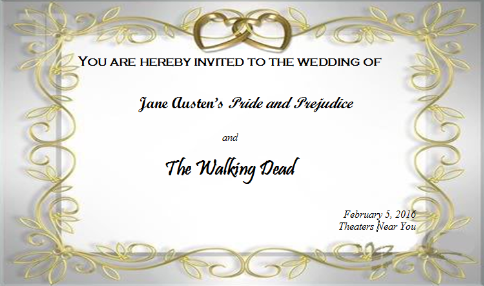 Jane Austen's Pride and Prejudice has been considered an universal symbol of morality, manners, sophistication and intellectuality in classical literature since its release in 1813. The zombies? Now that is new.
Pride and Prejudice and Zombies was released on Feb. 5, starring Lily James (Cinderella) as Elizabeth Bennet, Sam Riley (Trainwreck) as Mr. Darcy and Matt Smith (Doctor Who) as Parson Collins.
The newest take on the literary classic shades the story with a dark tone, littering the Regency romance with sword fighting, gore and the walking undead, but still to manages uphold the feminist precedent Austen set by having the film's female characters take control of the bloody battle.
Fans of the original vary in their response, from delight at a completely different interpretation to indignation at the clear strays from the storyline and well, the fact that there are zombies tromping their way through balls usually reserved for witty banter and dazzling dresses.
Senior Alexandra Conway believes that the mixing of gore and gowns is a creative version of the respectable classic.
"To be honest I think it's hilarious to take something centered around posh society and add zombies to the mix is totally unexpected," Conway said. "But I also have the feeling that it was meant to shock viewers, and maybe even serve as a subtle dig at society's current obsession with the undead."
Senior Jessica Dibble disagrees, believing that adaptations of the novel should stay true to Austen's storyline and personalities rather than adding in a slew of extra characters in zombie-form.
"I don't like this idea for Pride and Prejudice because it has nothing to do with the original novel and should be a movie on its own," Dibble said. "I believe it is rude because it's not an accurate depiction of Jane Austen's book. I feel like the industry is only doing this movie to gain money."
Let's be honest. Adding zombies to Pride and Prejudice is the epitome of marrying classical and modern entertainment. While Pride and Prejudice has long since been considered to be a symbol of intellectualism and sophisticated taste, zombies and their lack of brain matter seem to have appealed to the worldwide public.
According to a 2014 BBC article, zombie-themed film is so popular because current events have lead to lives of uncertainty and collapse where there is a constant financial crisis, climate change ravages the planet, terrorist attacks seem relentless and global corporations seem uncontrollable, resulting in a wonder about the possibility of the end of the world occurring. Zombie stories give people a chance to see the apocalypse that they've been worrying about, but still allowing themselves to sleep at night because the concept of zombies is fictional.
Still, it is unclear whether Hollywood is running out of its own ideas and decided to throw together films that sound, and are, ridiculous, in order to keep the industry running, or if the film is ingenious and inspired. Either way, it certainly has an admirable take on women, which is always a rare find in Hollywood.
In the original novel, main character Elizabeth Bennet was written to be headstrong and independent, widely considered to be one of the most forceful and capable written heroines.
"The book portrays the different personalities and ways that domesticity affected women, some of whom conformed and some who rebelled," AP European History teacher Erin Brown said. "I think Jane Austen challenged the rules and expectations of the Victorian Age."
According to a 2014 Buzzfeed post ranking the top 22 strongest female characters in literature, Elizabeth Bennet tops off at first because "she is strong, smart, and knows what she wants."
Additionally, despite the fact that Bennet lives in a world that limited women's lives, as "they had to marry, they couldn't inherit, and were often regarded as silly, but she never let that stop her from speaking her mind."
In present day, female independence and power is not limited to Regency-era boundaries of sharp comebacks and strong beliefs—they fight too. Pride and Prejudice and Zombies has its female characters slaying zombies right and left, with little to no time for the kitchen or social niceties. In the movie, Bennet does not just use her witty words to cut her way out; she's a master of weaponry and martial arts as well.
"I can definitely see Elizabeth Bennett playing the strong, female hero who slays zombies," Brown said. "She would handle this situation very well."
According to Conway, "putting women in a position where they can have impeccable manners and poise" and still be considered fierce warriors is admirable, as "sometimes, when movies try to empower women, they do so at the cost of lady-likeness, but this one doesn't do so."
Really, the only flaw in the film's progressive nature is the fact that there seems to be little to no diversity in the cast. Though the longstanding argument is that there were almost no people of color in upper class positions in England during the early 1800s, having people of color hold such positions cannot possibly be more unrealistic than having zombies roam the English countryside.
Still, the movie is a step forward to an improved Hollywood. However, it may not be considered an improved version of Pride and Prejudice—though the zombies throw a twist into the story, it may prove to be too difficult to incorporate the undead as well as stay true to the original story.
"Zombies are so polar opposite to anything going on in the book that I don't know how they intend to keep the two in agreement," Conway said.
So some advice for Pride and Prejudice conservatists: just treat it like an independent, original, Regency-era zombie movie with suspiciously familiar names, and it will turn out just fine.
"I feel like the movie is going to be more about dealing with zombies during the Victorian Age versus actually bringing the zombies into the Bennett household," Brown said.