New restaurant brings Chinese food back to Potomac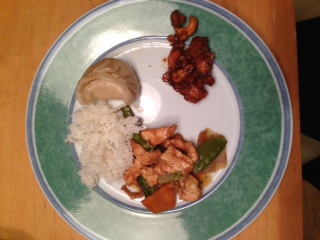 China Gourmet Bistro is the newest Chinese restaurant to try its hand at Asian cuisine in Cabin John Shopping Center.
It is the third Chinese restaurant to occupy 7945 Tuckerman Lame in recent memory; a product of frequent restaurant turnover. Previously, China Jade Bistro was open for about two years, and Jade Billows was there for 20 years before that.
"We have a modern Asian menu that includes a fusion of Asian dishes," China Gourmet Bistro manager Vivien He said. "However, as our name suggests, we mainly specialize in Chinese cuisine, Americanized or traditional Chinese."
China Gourmet Bistro offers a wide variety of dishes, allowing everyone to find something that they like. The large menu offers several seafood dishes in addition to several types of meat and poultry dishes, including duck. Dishes such as duck are not common around the CHS area, offering customers a different type of meal.
According to He, China Gourmet Bistro's specialties are Peking Duck, Cantonese Style Roast Duck, Three Cup Chicken, and the whole fish dishes.
In addition to offering a wide variety of dishes, China Gourmet Bistro offers many meals for customers with special dietary needs or restrictions. All of their food is made without Monosodium Glutamate (MSG), a flavor enhancer commonly used in Chinese food, which many people are allergic to. Almost any dish can be made gluten-free and the menu offers almost 20 vegetarian dishes.
"We have a very flexible kitchen," He said. "We can cook basically anything on our menu gluten-free at the customer's request, as well as accommodate any other dietary needs."
Upon eating at China Gourmet Bistro, I was pleased. The interior of the restaurant was nicely decorated and the staff was friendly. We had steamed chicken dumplings, soup, two chicken dishes and a seafood dish. The portions were large; enough to feed a family of four and still leave leftovers, a welcome afterschool snack.
All of the dishes were served as advertised. The Chicken with Vegetables had a variety of fresh and delicious vegetables, and the Cashew Chicken had a good mix of chicken and cashews, neither ingredient overpowered the other.
Students have been pleased with the quality of food from China Gourmet Bistro.
"You can tell that the ingredients that they use are fresh," junior Cess Jegbadi said.
China Gourmet Bistro is a convenient place for students to go for lunch. It is close to CHS and opens at 11a.m. They also offer several reduced price lunch specials from 11a.m. to 3p.m. Monday to Saturday.