Teen novel is worth a read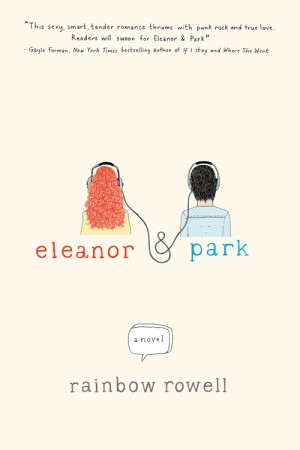 Teenage romance is the backbone of countless young adult books. It is seemingly nothing new. However, Rainbow Rowell's novel about young love Eleanor & Park is anything but ordinary.
Set in 1986, Eleanor & Park is a story about two high schoolers who fall in love despite overwhelming everyday obstacles and their unlikeliness as a couple. Eleanor Douglas, described as a "big girl," has a head of bright red hair, which, combined with her odd fashion sense, lands her as a target for bullies, especially on the school bus. After desperately searching for a seat on the first day of school, she ends up next to Park Sheridan, a half-Korean boy whose borderline popularity is just enough to keep him from being bullied. Through their daily bus rides, the two forge an unlikely friendship that soon blossoms into love.
However, the teenagers' lives are not without their struggles—in fact, their relationship is rooted in obstacles. At the beginning of the novel, after being kicked out of her house for a year by her alcoholic, abusive stepfather, Eleanor returns to her home in Omaha, Nebraska, to live with him, her mother and five siblings. Her life at home is anything but pleasant. In addition to sharing a small room with all of her brothers and sisters and being so poor that she cannot afford a toothbrush, she is constantly afraid of upsetting her stepfather.
According to a September 2013 NPR article, Rowell stated that the purpose of the novel is hope, even in the worst circumstances.
Many CHS students are fans of Eleanor & Park, especially those who enjoy the popular book The Fault in Our Stars by John Green, which is being released as a movie June 6. Both young adult novels share a theme of unconventional love between teenagers.
"I liked the book because of how attached I became to the characters and of course the ending, which blew me away," junior Jake Smith said.
According to media specialist Page Pagley, a copy of Eleanor & Park was recently purchased for the media center and is already checked out.
"The characters were really realistic and relatable," junior Yasmine Kehenmouyi said.
Eleanor & Park also has its downfalls: the vulgar language and mature issues may be inappropriate for young readers, and some may consider Eleanor and Park's romance to be slightly hurried. Despite this, the book has a mostly positive reception and even won the 2014 Michael L. Printz Honor for excellence in young adult literature. Overall, Eleanor & Park is a well-written and captivating book about a love that is strong and inspiring.
"I thought the book was a fantastic read that really captured the mindset of a teenager well," Smith said.