'Hunger Games' makeup line pushes boundaries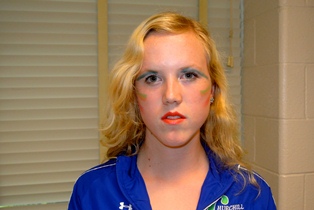 A bold, new makeup line has taken center stage at cosmetic counters. Covergirl's Hunger Games-inspired makeup collection features fearless shades of blue lipstick, scarlet eyeliner and electric emerald eye shadows. The line was released on Oct. 1, the same day movie tickets for the film's sequel, Catching Fire, went on sale.
The collection, called the Capital Line, promotes the film in an original way: it features a series of 12 intense looks, each representing one of the 12 districts of the country, Panem, from the movie.
The makeup line, which was used on the actual actors in the film, plays off each district's uniqueness.  Each separate region represents a distinctive industry, such as fishing, textiles or mining. The makeup line uses these themes as its inspiration.
District 1, the luxury district, features a Marie-Antoinette look of deep red lip gloss and light blushes, while District 5, the power district, is made of neon yellow and green eyeliners, framed by a base of deep rouge eye shadow and blush.
According to both sophomore Maya Demby and senior Erin O'Connell, the fishing look of District 3 is superior. This particular look incorporates a mix of greens, blues and turquoises to create an oceanic feel. The makeup is blended in a way that it seems fluid and water-like. Junior Jess Taylor favors the more modest mining look of District 12.
"I think coal mining would suit my fashion well," Taylor said. "I don't really get dressed up, and usually just throw something on. I'm more excited to see all the looks come to life at the premiere of the movie."
Because these looks are so extreme, only the most daring students and Hunger Games fanatics may be willing to transform into citizen look-alikes from Panem.
"I definitely would wear it," O'Connell said. "I love the movies and the makeup is fresh. It is a bit glitzy, but it's unique."
The makeup line is drastic in the sense that its color scheme does not reflect a person's natural features, but instead includes a wide variety of hues and bright, explosive colors. The line embodies nearly every facet of makeup, including eye shadows, shadow pencils, lip glosses, mascaras, nail polishes, lipsticks, blushes and eye liners.
"I'd wear it for Halloween, but I would not wear it to school," Demby said. "Personally, I think it's a bit much for everyday use."
Despite its costume makeup appearance, some students find that using this makeup in daily life would not be as radical with a smaller-sized proportion.
According to O'Connell, the makeup is appropriate to wear when out with friends, to a dance, or even to school, when applied in lighter quantities.
Students can check out the looks for their own Hunger Games-style inspiration on Cover Girl's website.