New arts teacher expands students' artistic horizons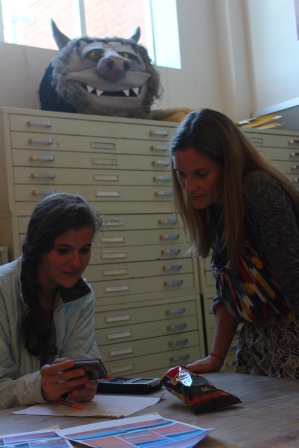 Jacquelyn Washam, CHS' new art teacher and a working artist, is using her background knowledge of the art world to help jump-start art students' artistic endeavors by encouraging all of them to have an art show by senior year.
Her idea is for students to put hard work into finishing major pieces and eventually do a show on their own or in a group. This allows students not only to showcase their art, but also to experience the work and emotions a working artist goes through and even have a chance to make some money.
"I think it is important to do shows because there is a lot that goes into pulling off an art show and being a working artist," Washam said.
Washam has been doing shows for years, and she knows about the pressure behind them, but she also knows about the value and reward.
"My first art show was when I was a sophomore in high school," Washam said. "I had a personal show at the Yellow Barn in Glen Echo. I was really excited until I hung my work. I got so nervous; I thought all my pieces were horrible. I ended up selling 12 pieces. It went well, and it fueled me to keep going."
Students will not be expected to have a solo show sophomore year like Washam; they can do a group show or a solo show whenever they are ready. Some students have only started art as a junior or senior, but Washam encourages the idea that anyone who works hard enough can have a show.
"I'm not sure if having an art show is something I'll be able to do, but I'd really like to," junior Katie Kidney said.
Excluding AP students, many of the art students do not have the pressure to make an array of pieces to be presented or shared because the curriculum does not require it.
According to freshman Libby Spriggs, having shows is a good idea for those thinking of pursuing a career in art.
"It is unrealistic for kids who just do art for fun," Spriggs said.
However, having an art show is beneficial for more than just students looking for a career in art. It can be a positive way to spend one's time or a way to give back to the community.
According to Washam, some coffee shops and restaurants display student artwork, and sharing art in such shops is "beneficial to the community," because people get a chance to be exposed to a variety of local art samples by students they may know.
Students do not have to aim for an audience outside of CHS, however. There are plenty of opportunities to share within the school.
"I want an art show," junior Ethan Denicoff said. "I would want it to be in the school so other students could see it, because I think students like to see what other students are doing; it's interesting."
Though it is not required for any student, having an art show, whether at CHS, the Yellow Barn or at local businesses, allows students to share their work, gain new experiences and gives more exposure to the CHS art community.
"I invite all of CHS to come out and support the art students," Washam said.