Students worry about 'Boy Meets World' return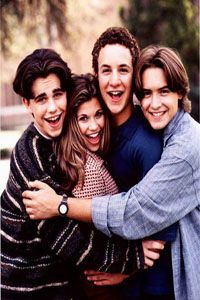 Boy meets girl.  Boy falls in love with girl.  Girl falls in love with boy.  The 1993 television show Boy Meets World was based on this classic love story, and when it stopped airing in 2000, fans of the show begged for more.  Well, Boy Meets World fanatics, cry no more, because your television screens will soon be bombarded with episodes of the spin-off show, Girl Meets World.
Boy Meets World, a television show on ABC's TGIF lineup, focused on the lives of teenager Cory Matthews (Ben Savage, Bones), his family, friends and love interest, Topanga Lawrence (Danielle Fishel, The Chosen One).   The show progressed over the years as the main characters encountered familial struggles and had to make decisions about love and marriage.  The show ended in 2000 with newlyweds Cory and Topanga headed to New York City after college, leaving much to be desired by die-hard fans of the show.
The new sequel, Girl Meets World, will cover the life of Cory and Topanga's daughter, 13-year-old Riley Matthews, who has yet to be cast for the show.  The pilot episodes of the show are currently in their early stages of development.
"I liked the original, and it'll be cool to see them all grown up," junior Emily Johnson said.
According to a Nov. 29 Entertainment Weekly article, Ben Savage and Danielle Fishel from the original cast of Boy Meets World have officially signed on to star in the new series.  No other members of the original cast have confirmed yet that they will take part in the show, but Rider Strong, who played Cory Matthew's best friend Shawn Hunter, will not be returning for Girl Meets Word.
Junior Catherine Nardi hopes that the new show will not be a let down.  She believes that the old cast worked perfectly together and worries that adding new cast members may ruin the show.
"It definitely won't be as good as the original, but it's cool that there will be some of the same characters," Nardi said.   "I'm excited to see Cory and Topanga as parents."
The creator and executive producer for the show is Emmy Award-winning Michael Jacobs, who also created and produced the original Boy Meets World.  Instead of airing on ABC like the original series, Girl Meets World will premiere on the Disney Channel.
Some CHS students, like junior Nicole Gonzalez, are concerned about the show being taken over by Disney.  Gonzalez believes that the show will not be as funny and predicts that it will not cover mature topics like those in Boy Meets World.
"I think the new show won't be as good as Boy Meets World because since the audience is younger, they won't be able to talk about the same things as on Boy Meets World, like college and relationships," Gonzalez said.
Until the new show premieres, we'll have to stick with re-runs of Boy Meets World and live vicariously through Cory and Topanga's adorable relationship.  Someone please hand over the tissues.